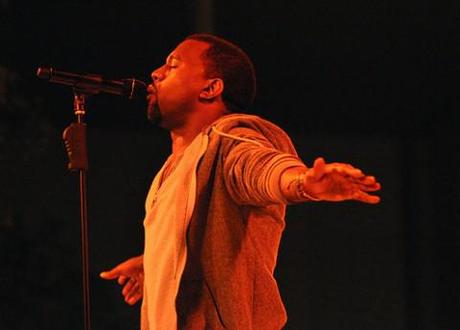 Kanye West. Photo credit: Jason Persse, http://flic.kr/p/9GDA6E
Kanye West, rapper, producer and scourge of country-music singers, launched his debut womenswear collection at Paris Fashion Week. Unfortunately, it appears the fashion critics were not hugely impressed.
Vacuous. Lisa Armstrong described the "vacuous" show as "like being subjected to an hour long MRI scan – but not as much fun" in The Telegraph. Most damningly of all, Armstrong suggested that the Olsen twins were not particularly impressed. In fashion terms, this is a mortal insult.
Ego. Over at The Guardian, Jess Cartner-Morley was kinder, calling the show "quite good for a debut collection". However, Cartner-Morley was deeply unimpressed by the staging, which she argued was completely inappropriate for a debut show, what with the celebrities, grand venue and prime-time slot. By contrast, she pointed out, Victoria Beckham introduced her own debut collection with "humility". In fashion terms, being compared unfavourably to Victoria Beckham is not quite a mortal insult, but is certainly a rebuke.
Luxurious. Jenny Barchfield of The Associated Press took a different view, arguing that the fashion editors took in Kanye's "luxurious" collection with "humbled wonder". It seems this "wonder" had evaporated by the time the editors came to write their reviews. Eric Wilson insisted on the New York Times On the Runway blog that the collection was "confusing", and that the clothes did not fit the models.
Model behaviour. Speaking of which, Jenna Sauers pointed out at Jezebel that Kanye West had opted to use only two black models, and described the show as "very, very white".
Dressed sharp like a London bloke. Kanye West was rather overwrought during the show, according to The Sun. The newspaper reported that the rapper "ranted" backstage, apparently telling onlookers, "They wouldn't let me back in London. They said, 'You cannot release the collection, they will not let you back in, they will f*** with you at the border.' "
More on celebrity

Rihanna rubs farmer up wrong way
Naked Scarlett Johansson leak
No celebs on .xxx domains
More pop culture »