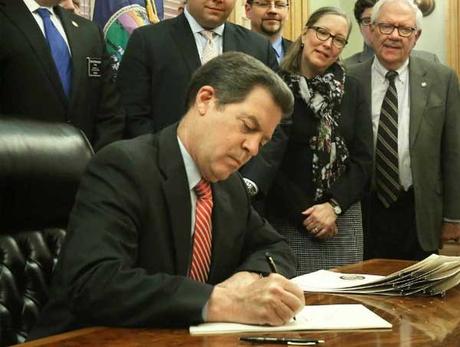 Kansas Governor Sam Brownback
Ammoland
On April 2 2015, Kansas Governor Sam Brownback (R) signed SB 45, abolishing the need for a concealed carry permit in order to carry a concealed handgun in the state. 
This means Kansas joins Alaska, Arizona, Vermont, and Wyoming in doing away with concealed carry permit requirements and also joins Montana, which has done away with a concealed permit requirement outside of city limits in that state.
The Kansas City Star reports that the new law will go into effect on July 1.
Kansas will continue to offer concealed carry permit courses and licenses for those who want to get them in order to enjoy reciprocity with the 36 other states that recognize Kansas licenses, but no license will be necessary in order to carry inside Kansas's borders.
When signing the bill, Brownback talked of how "carrying a gun is a constitutional right" and added, "We're saying if you want to do that in this state, then you don't have to get a permission slip from the government."