Kansas City, Missouri, is the home of
Make It Right
's latest community revitalization project. Though the neighborhood of Manheim Park hasn't been affected by a natural disaster, it's been afflicted with decades worth of decline. Bancroft Elementary, a formerly abandoned school dating from 1904, is the projects locus. Make It Right and local firm
BNIM
transformed the vacant building into low-income housing for families, veterans, senior citizens, and youths transitioning out of foster care. Architect Tim Duggan, director of Make It Right's Innovations department, spearheaded the effort. We chatted with him about the project, "urban acupuncture," and how this redevelopment plan serves as a model for other cities. "We see this as a model both locally and nationally to identify a catalytic project and revitalize it," Duggan says. "So often conventional development says, it won't pencil out or it won't work unless there are inferior quality materials, or it'll pencil out with less community space or less attention to quality. We didn't want to do that." See what else he has to say in the following slideshow.
Slideshow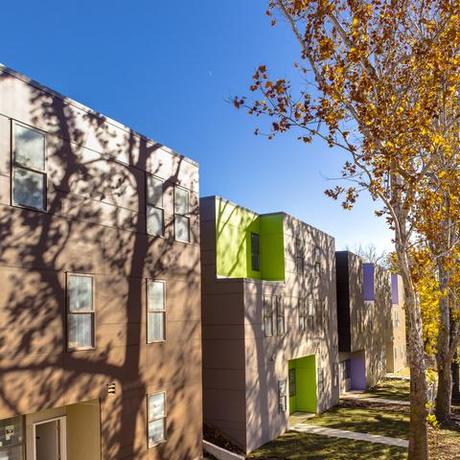 How did you come to work with Make It Right?
About six years ago I was at a firm in Kansas City called BNIM and we were doing disaster recovery projects. I was working in a little rural Kansas town called Greensburg after a Tornado leveled the town. Make It Right asked BNIM to design one of its early first-round houses for New Orleans so I traveled down there a few times. It became apparent that Make It Right could use a bit of landscape architecture and planning insight as they looked to build a sustainable community in the Lower Ninth Ward. I took a year's sabbatical and left the prairie and moved down to the swamps and had an amazing time with Make It Right. That turned into five-plus years of work with the organization.
How did Make It Right come to work in Kansas City?
As the Make it Right model began to evolve there was an interest to propagate the expertise and resources developed in New Orleans to other communities. There might not be a natural disaster involved—so many urban cores are faced with economic disasters. We started to look to other communities and develop Make It Right's strategic plan. The stars aligned in Kansas City with a political structure wanting to create this area called the "Green Impact Zone" and looking to focus investment in urban revitalization under the umbrella of sustainable redevelopment.