For people who love visiting historic places, Nara and Kyoto cities are some of the places in Japan teeming with history. Not only are these two cities previous capitals of Japan, but also these are home to many UNESCO World Heritage sites. Most people (or at least those that I know that have been to Japan) only do a day trip to Nara from Kyoto or Osaka to see the deer and Todaiji. But being a World Heritage Site nerd, I spent two whole days in Nara.
November 25, 2016
Friday
AM
I arrived in Nara the night before and settled in in Hiloki Hostel. I had already bought my bus pass at Nara Station and had gotten the schedule for the bus headed out of the city, to the town of Ikaruga, where I plan to start my day of World Heritage site hopping.
The first bus to Horyuji doesn't leave until almost 9AM, quite late for me because I like am an early riser. I decide to leave around 7AM, taking the train from Nara Station to Horyuji Station, and warming up my legs by taking a 20-minute walk from Horyuji Station to my first stop: Horyuji.
The main streets in Ikaruga Town are still and deserted this early in the morning. I walk through narrow residential areas and main streets and I am surprised to find directional signs under my feet. I reach a simple 300-meter lane with trees on both sides and the temple straight ahead—I am almost there! But a sign warning me of bees (the sign was in English) stops me and I do not make a beeline to the temple. Instead I backtrack and find a parallel street free of bees—no shortcuts, no bees.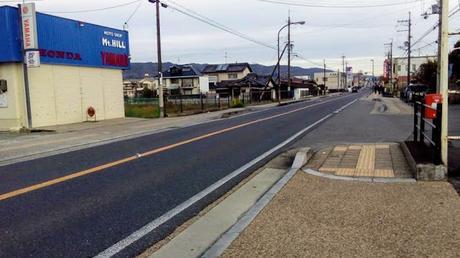 Nobody out and about yet at 7AM in this town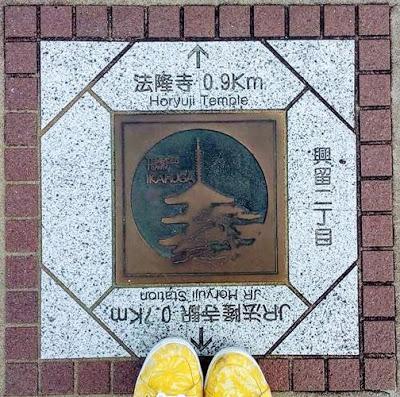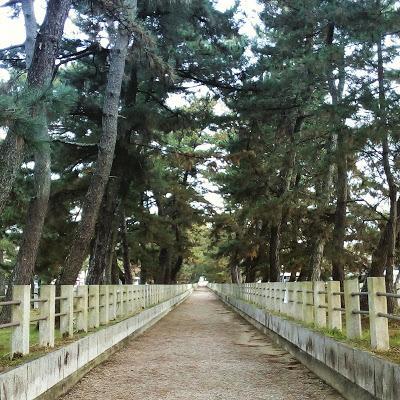 Beware of bees in this area


Horyuji




法隆寺


8AM to 5PM (430PM November to February)
Admission fee: 1500 yen (includes entry to Saiin Garan, Daihozoin, and Toin Garan)
I arrive at Horyuji about 15 minutes before 8AM and enter through Nandaimon (south main gate), but the Saiin Garan (western precinct), which is a paid area, is still closed. An elderly man in overalls is sweeping outside. I stand and wait near the entrance ramp of Saiin Garan.
A Japanese grandma who is passing by smiles and stops to talk to me. She talks to me oh so animatedly in Japanese and I tell her I cannot understand Japanese, but she goes on, trying her best to convey her message with hand gestures. In the middle of our "conversation", I sniff (my body was adjusting to Japan's low temperatures causing my nose to run), and she points to me then to her nose, makes an X with her forearms, then covers her nose and mouth with her palm. She isn't telling me I stink, is she? (I am sure I brushed my teeth this morning.) I think she's telling me I should wear a mask because I have colds! Aside from that, I understood two other things from our "conversation": that Horyuji opens at 8AM and there is another temple, called Chuguji, just east of Horyuji. I thank her with a smile and she goes on her way. I love these old Japanese folks!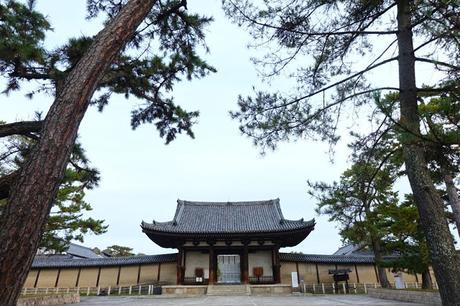 Horyuji's Nandaimon (south main gate) was restored in 1438
Horyuji's Saiin Garan opens and the worker in overalls gestures for me to go in. In the temple grounds are beautiful wooden buildings connected by pathways, the open space between buildings covered in gravel.
Horyuji was built by Prince Shotoku in the year 607 to fulfill Emperor Yomei's vow to build a temple and an image of Buddha as a prayer for recovery (the emperor died before he could fulfill his vow). Horyuji is home to the world's oldest surviving wooden structures (no destruction at all, just renovation works): Horyuji's Chumon (central gate), Kondo (main hall), and Gujo-no-to (five-storied pagoda).


Left to right: Gujo-no-to (five-storied pagoda), Daikodo (Great Lecture Hall), and Kondo (Main Hall)
I do not get to see Japan's oldest (8th century) clay Kongo Rikishi, the guardian deities that stand guard in Chumon, because the gate itself is hidden under the scaffoldings and covers for renovation work. I proceed instead to the two buildings on the center: the Gujo-no-to and the Kondo.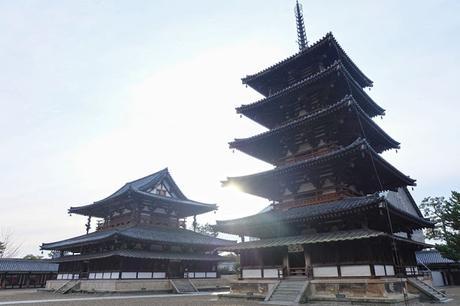 Kondo (main hall, left) and Goju-no-to (five-storied pagoda, right)
I look inside Gujo-no-to and see four ancient clay statues of Buddha. In the Kondo are three ancient bronze statues of Buddha for which Horyuji is dedicated, wooden statues of guardians, and wooden statues of gods. And along the walls of Kondo are murals. (No photos allowed inside Gujo-no-to and Kondo.)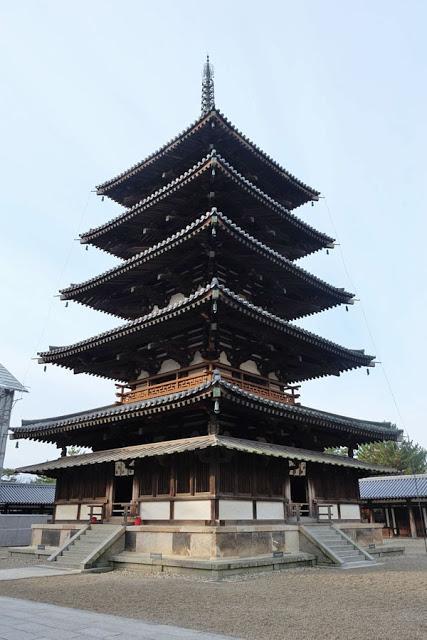 Goju-no-to
Across Chumon, behind the pagoda and the main hall, is the Daikodo or the Great Lecture Hall. This was where monks would study and also where memorial services were held. The original hall burnt down in the year 925; the current hall was built in the year 990.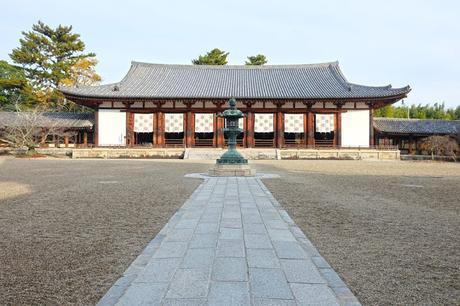 Daikodo (great lecture hall)
I leave Saiin Garan to go to the Daihozoin or Gallery of Temple Treasures, where I see many of Japan's cultural and historical treasures (ancient statues of Buddha, relics, painting, etc). On the way to the gallery, I pass by Shoryoin or the Hall of Prince Shotoku's Soul, which enshrines a statue of the prince.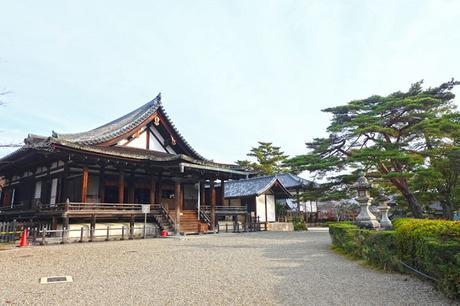 Shoryoin
I move on eastward towards Toin Garan (eastern precinct) where the octagonal pavilion called Yumedono (Hall of Visions) is. Yumedono stands where Ikaruga Palace used to be. In the Yumedono are ancient statues (8th to 12th century) of Prince Shotoku, of Buddha, of the monk who built the eastern precinct, and of a monk who supervised the repair of Yumedono.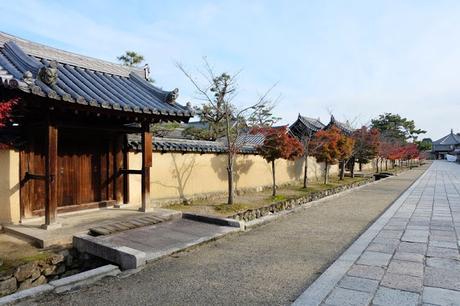 To Yumedono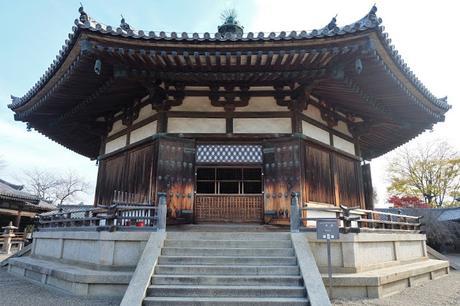 Yumedono
Chuguji, the temple Japanese grandma mentioned, is in another enclosed area behind Yumedono. I go there to take a peek but decide to skip going inside (separate admission fee of 600 yen).
As I exit Horyuji's Nandaimon (south main gate), I see a bus approaching and I run like the wind to catch it. I heave a sigh of relief as I sink on the bus seat and the bus starts to roll away. We travel for a kilometer or so and stop at Horyuji Station. I remain in my seat and the driver looks my way and asks me where I am going because this is the last stop. I can see a smile dancing on the corners of his mouth and I want to laugh myself—I have taken the wrong bus (#72)! I tell him I want to go to Hokkiji and he fiddles with something by his side and produces a printout of directions on how to go to Hokkiji (I guess I wasn't the first one to have mistakenly gotten on his bus!). Showing me the printout, he tries his best to explain to me in a handful of English words how to go to Hokkiji. He tells me to remain seated and he drives the bus out of the station. On the third stop he tells me that we're now at the stop where I have to take bus #97 that's scheduled to come by at 10:09AM. I thank him as I alight. He gets off too and goes inside the small office of the bus stop for a minute then goes out and drives away.
I stand outside and it is a bit chilly. The bus station staff goes out of his office and politely tells me, in Japanese, the bus will come at 10:09. (I guess the bus driver advised him that there's a lost man outside and to make sure this lost man gets on the right bus.) And like the curious elderly Japanese in Koyasan who have stopped to talk to me, he too asks (still in Japanese) where I am from, if I was traveling alone, etc. Then he remarks that it is

さむい

samui (cold) and he leads me inside the waiting room and turns on the heater. I thank him and take a seat in the waiting room.
After a few minutes, a bus arrives and I see the bus station man signal to me through the office window. I get out of the toasty waiting room and wave a thank you to the man and get on the bus. The bus idles for a few minutes, waiting for the clock to tick 10:09. Tinkering with my phone, I have my head down and in the periphery I see blue pants and hear, "Magandang umaga! Kumusta?" I glance up and I am surprised to see a Japanese man. He shakes my hand and explains that he knows a bit of Tagalog because his wife is Filipina. We chat for a minute more and when the bus driver gets on, we say our goodbyes. And I am on my way to Hokkiji.


Hokkiji




法起寺


830AM to 5PM (430PM November to February)
Admission fee: 300 yen
Hokkiji temple grounds is small. It only has four buildings (five if you include the ticket office by the entrance) and a pond. I am the only visitor at Hokkiji.  The staff at the reception gives me my ticket and a printout of Hokkiji's history (in English).
Hokkiji is a Buddhist temple and was also known as Okamoto-dera. The area used to be Okamoto Palace. There is an inscription found in the pagoda (I didn't see it, but this is what I read from the printout) that on February in the year 622 Prince Shotoku left a will for his eldest son to convert the palace into a temple.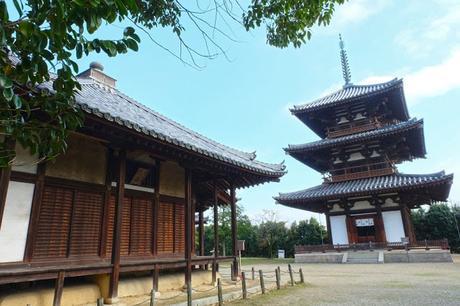 Hokkiji's Shotendo Hall or main hall (left) and three-storied pagoda (right)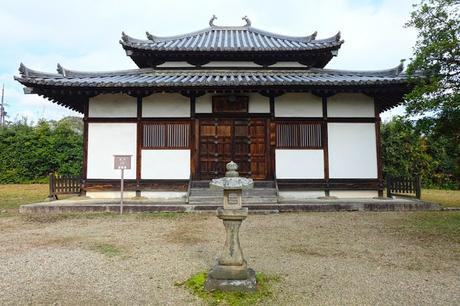 Lecture Hall
The three-storied pagoda, Shotendo (main hall), and the lecture hall are closed, and can only be admired from outside. Beside the lecture hall is a small repository where a wooden image of Kannon (goddess of mercy), an important cultural property, is housed. Three Japanese ladies arrive and they admire the pagoda, the oldest three-storied pagoda in Japan, having been built in the year 685.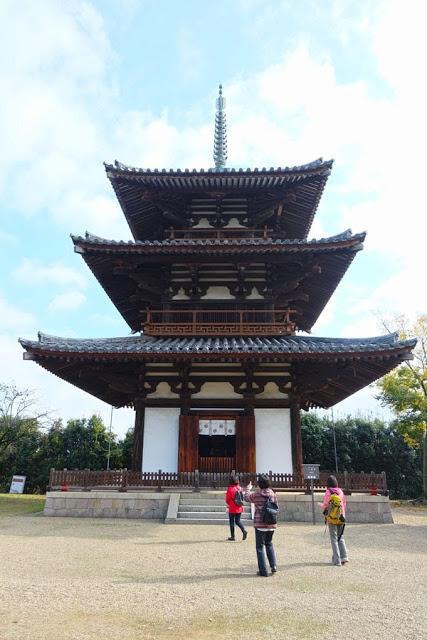 Three-storied pagoda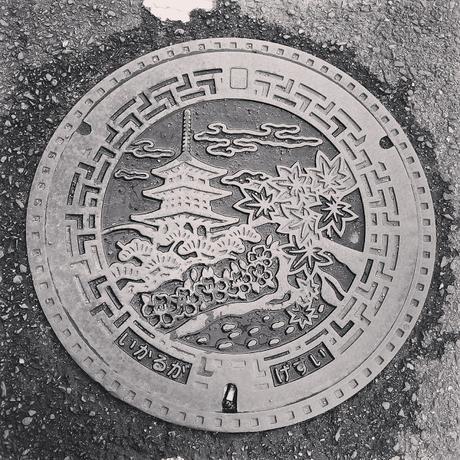 Ikaruga Town's manhole cover features Hokkiji's three-storied pagoda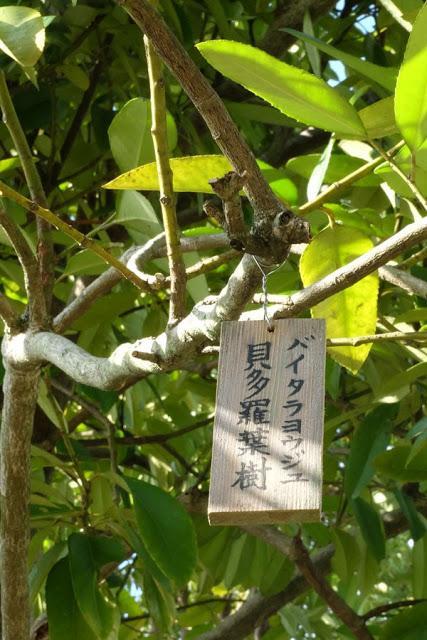 What does it say?I wander around some more and as I am about to leave I see the three Japanese women looking at a tree near the ticket office. I go closer and notice a small wooden plaque with these characters 貝多羅葉樹 バイタラヨウジユ. I have no idea what it means. It must be something important. They pick some leaves and bring it to an open rest area and proceed to write with a wooden stick the temple staff had lent them. They see me watching and they give me a leaf and gesture to me to write on my leaf too. I thank them and do as I am told and they look at what I had written (I just wrote my name) and give me an approving smile. (I find out later, through research, that the characters on the wooden plaque reads as baitarayoujyu, a pattra tree, the leaves of which were used for writing upon.)


I leave Hokkiji and go out to the bus stop. The street is deserted. The bus stop is deserted. I see the three ladies leave the temple and we wave goodbye to each other. I sit on the bus stop bench and wait for the bus that will take me to within Nara City's boundary to my third World Heritage site for the day: Yakushiji.


Japan
Know Before You Go
Single Entry Tourist Visa for Japan
Roam Around Japan with a Swagger
An Ignoramus in Japan: Vending Machines
An Ignoramus in Japan: Bathrooms and Toilets
An Ignoramus in Japan: Manhole Covers
I Spy With My Little Eye: Japan's Fashion Contradictions
I Spy With My Little Eye: On the Go in Japan


From Tokyo to Hiroshima (2015)


10D/9N | Tokyo, Toyama, Kyoto, Hyogo, Osaka, Hiroshima
Tokyo Accommodation: Shinjuku Airbnb
Tokyo: Memorable Tokyo Eats
Tokyo: Odaiba
Tokyo: Doing Touristy Things in Tokyo
Toyama: A Hamlet Called Ainokura
Kyoto Accommodation: K's House Hostel Kyoto
Kyoto, Japanecdote: Wisdom from the Road: On exits #2
Kyoto: By the Thousands (Kyoto Imperial Palace, Sanjusangendo, Fushimi Inari Taisha, Arashiyama Bamboo Grove)
Kyoto, Japanecdote: Turning Japanese
Kyoto: Braving the Crowds at these UNESCO World Heritage Sites in Kyoto (Kiyomizu-dera, Nijo Castle, Kinkakuji)
Hyogo, Japanecdote: If Only I Could Speak Nihongo
Hyogo: Day Trip to Himeji: Himeji Castle and Shoshazan Engyoji Temple
Hyogo, Japanecdote: Am I an Alien?
Hiroshima: Strolling and Snacking in Miyajima
Hiroshima: Remembering the Past in Hiroshima
Osaka, Japanecdote: How to Lose Friends
Osaka Accommodation: Osaka Airbnb
Osaka, Japanecdote: Where is Bentencho Station?
Osaka: Osaka Adlaw, Osaka Ako sa Osaka
Osaka, Japanecdote: Learn From Your Mistakes


Kansai Diaries (2016)


9D/9N | Wakayama, Nara, Kyoto, Osaka
UNESCO World Heritage Sites in the Kansai Region
Osaka: Day 0: Arrival
Osaka Accommodations: Hotel Raizan, Hotel Mikado
Wakayama: Day 1: Going to, Sleeping in, and Eating in Koyasan
Wakayama: Day 1½: West Side of Koya Town
Wakayama: Koyasan Sidewalk Shorts
Wakayama: Days 1¾–2: Okunoin, Three Times
Nara: Sleep, Eat, and Explore Nara City
Nara: Day 3: Horyuji, Hokkiji, and Some Japanecdotes in Ikaruga Town (you're here!)
Kyoto Accommodations: Guesthouse Wind Villa, Shiori Yado