The month long mega marathon is still lingering in the air and I have quite a few posts in the drafts that I made and could not post. So here we are with a breakfast mini thali from Tamil Nadu that I wanted to post for Tamil Nadu, but changed and did this Chettinad Vegetarian Biryani.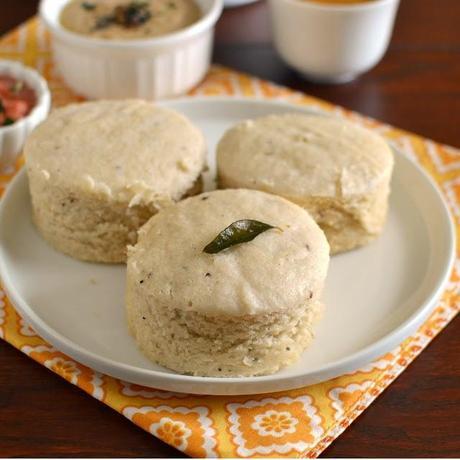 Kanchipuram idli has been on my to-make list for a very very long time. I think I saw the recipe in a Telugu newspaper many many years ago and it stayed in my head, though it wasn't until very recently. I jotted it down for Tamil Nadu, but with the winter lingering around a little too long, I wasn't sure if the batter would rise. I waited till it started to get a little warm again to make the idlis. It took me 48 hours for the batter to ferment and the idlis turned out fluffy and delicious.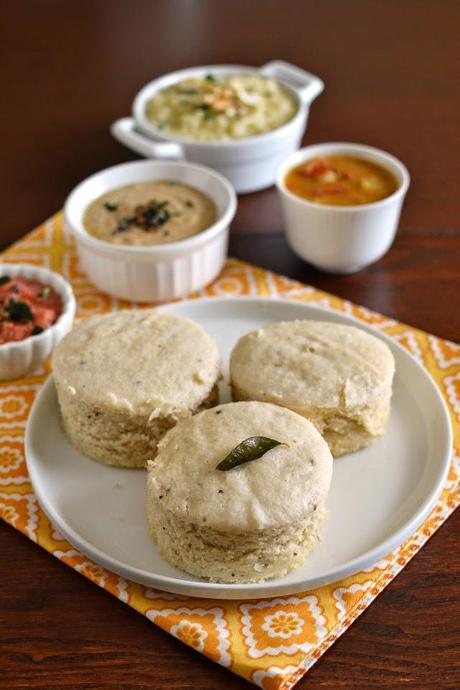 Kanchipuram idlis are made in molds instead of the idli molds and they are flavored with spices unlike the blander regular idlis. Here's my breakfast menu:
Kanchipuram Idli
Ven Pongal
Peanut Chutney
Sambar
Kara Chutney
Kanchipuram Idli: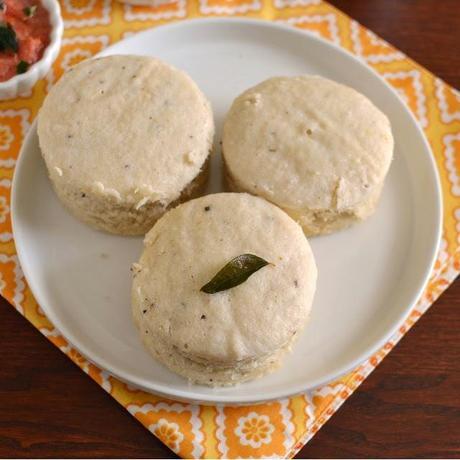 Recipe from Dakshin.
Ingredients
: Urad dal - 1cup Parboiled rice/ Idli rice - 1
½cups
Asafoetida/ Hing - 
½tsp
Black peppercorns - 1tsp, crushed Ground ginger - 1tsp Cumin seeds - 1tsp Curry leaves - 8~10 Salt - to taste
Method
:
Soak the parboiled rice and urad dal for 4~5 hours.
Grind the rice and dal into a coarse batter. Add hing, ground ginger, cumin seeds, crushed pepper and salt and mix well. Cover and let the batter ferment for 24 hours (or up to 48 hours in colder weather) until the batter smells sour.
Just before making the idlis, heat 2tbsp gingelly oil and ghee in a pan and add the curry leaves. Pour the oil in the batter and mix well.
Pour the batter into a greased container that fits in a pressure cooker. You can also make these in individual small cups/ katoris. Steam cook for 20 minutes without the whistle or until done. I stemaed in the container that comes with the pressure cooker and then used a small katori to cut the round shapes out.
Serve hot with chutney & Sambar.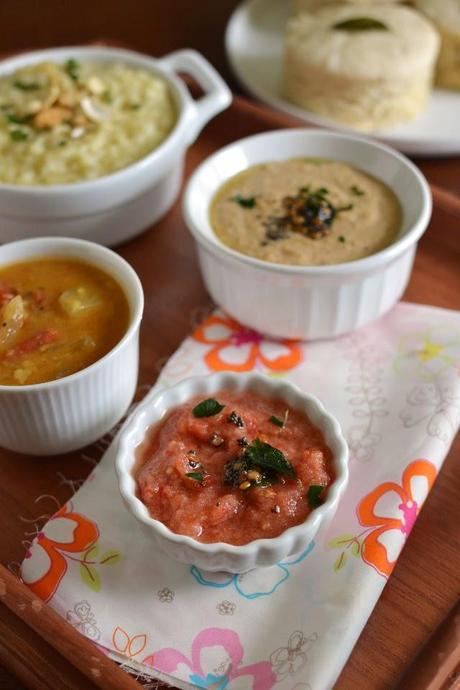 Kara Chutney/ Spicy Hotel Style Red Chutney:
Recipe from Valli's Cooking4allseasons
:
Ingredients
:
Onion - 1 medium, chopped
Tomato - 1 medium, chopped
Dry Red Chilis - 4
Mustard seeds - ½tsp
Urad dal - ½tsp
Curry leaves - 6~8
Salt - to taste
Method
:
Dry roast the red chilies for 2~3 minutes or until they are crispy. Remove from the pan and set aside to cool a little bit.
Grind the onions until almost minced. Then add the tomatoes, red chilies and salt; grind until a coarse paste forms. 
In a saucepan, heat 2tsp oil, add mustard seeds, urad dal and curry leaves. Once the seeds start to splutter, pour the chutney and bring to a boil. Serve with idli or dosa.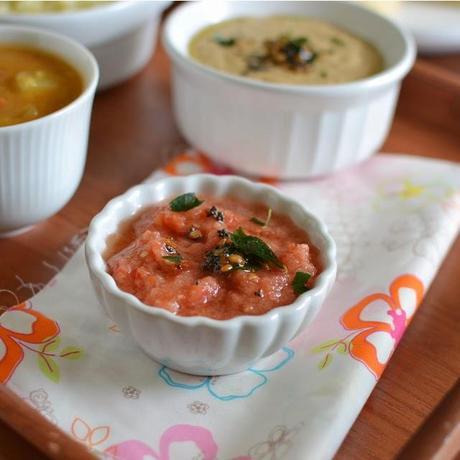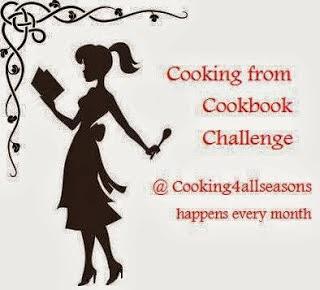 Linking this to Valli's '
Cooking from Cookbook Challenge -- May: Week 1'
.