Real Madrid v Barcelona? Old skool. PSG v OM? Past its best even with the added "pzzazz of Monsieur Beckham. Celtic v Rangers? Had its day. Lewes v Eastbourne Borough? Getting closer. But none of these currently tick all the boxes as the most anticipated games in recent years. The most talked about domestic game these days in Europe is in Germany. After years of dominance of the Bundesliga, in the past couple of seasons Bayern Munich have had to play second fiddle to Die Schwarzgelben, Borussia Dortmund. The domestic champions for the past two seasons have risen from the financial flames into a majestic young phoenix managed by one of the best young managers in the game, and of course, the biggest average club attendance in Europe.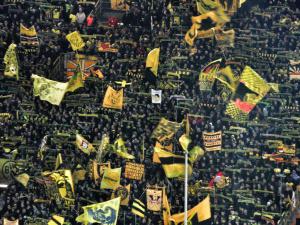 Under Jürgen Klopp, Dortmund have become one of the most watchable teams of their generation, with an emphasis on counter-attacking play which saw them cruise to the title over the past two seasons. Last season in front of 75,000 in Berlin, and millions watching across the globe, Borussia Dortmund destroyed Bayern in the DFB Pokal final to take their first domestic double.
That final was a watershed in German football. In fact Ribéry's goal in the 25th minute of the final was the first that Dortmund had conceded in the whole tournament, and it was a surprise that they only finished with five goals. The King was dead, long live the King. Or were they?
Bayern Munich were a wounded animal, and came out of the blocks firing with aggression. Just one defeat in the league conceding just 8 goals in 23 games (and scoring 60), cruising into the Champions League Quarter Finals and hardly breaking into a sweat in the DFB Pokal. Who could stop them? Well, how about Dortmund again? The draw for the DFB Pokal had paired the two titans in a duel to the death in Munich. Surely Dortmund couldn't slay the Kraken in its own nest? And to add a little bit more spice to the occasion, it was Bayern's 113th Birthday. Cake all round I hoped.
So how can the invincibles become even more immortal? How about snapping up the world's most in demand coach? Pep Guardiola will hopefully be walking into the Allianz Arena dressing room in July to meet a record-breaking team if current form is anything to go by. Bundesliga champions? Almost certainly. European champions? I think only one or two teams may have a say in that. Perhaps they should already have that title. Once again the huge burden of expectation that goes with hosting the final played heavily on the side's performance last May against Chelsea.
But for all their dominance this season Dortmund have come back at them again and again. Many saw their heavy home defeat to Hamburg earlier this month as a sign than Jürgen Klopp had not taken the opportunity in the January window to strengthen the side. But just seven days later and after an arduous Champions League game in Ukraine they emphatically bounced back with a win against 4th place Eintracht Frankfurt where the 3-0 score line hardly did justice to their attacking domination.
There are few people who would turn down a chance to see this game, and fortunately I'm not one of them. I know that few of you will believe this but I had been asked to be in the city for work purposes, along with Ben before I even took a glance at Soccerway to see what Kenny Legg would call "tinpot" action was in the agenda. Of course tickets had all been snapped up within minutes of going on sale. It's hard enough to get tickets for the visit of a club like Hoffenheim or Freiburg, but for a cup quarter-final against Dortmund, well you'd have more chance of a passing game from Allardyce. But sometimes you need to call in those favours that have been in your wallet for years.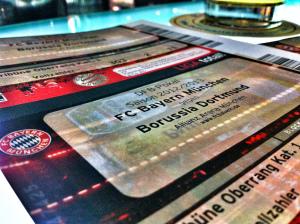 "I owe you one" said Bernd, our German regional manager. The date was 7th November 2005. He'd joined the company a few days previously and on a visit to London I'd taken him to the pub after work for a beer. I bought the first round before I had to leave. "I owe you one" he said and I wasn't going to forget it, saving it up, with interest. I nearly cashed it in a few years ago at Oktoberfest when I needed him to translate the drunken advances of a young Bavarian girl in her Dirndl that had exposed a bit too much German flesh. But Google translate came to my rescue. Now was the time to call in the favour.
After he had laughed at me for a good three minutes on the phone he realised I was serious. I could make life very difficult for him on a weekly basis by putting the wrong exchange rates into his commission sheets ("oh sorry, I thought you were reporting your figures in Belorussian roubles") but he didn't need much further encouragement. One hour later he rang and said he had the tickets. We were now quits after 7 years 3 months and 19 days in my book.
I'd been to the Allianz on a number occasions but never to see Bayern. I came in July 2005 when West Ham were the visitors to the newly opened stadium to commemorate the 1965 European Cup Winners Cup Final (kids – ask your Dad) when the Hammers beat 1860 Munich at Wembley.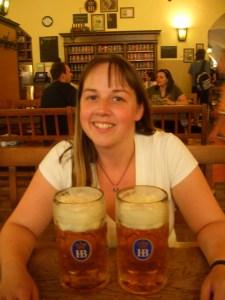 A few months later I was back to see a Bundesliga game as 1860 once again were the visitors. That was actually the last time CMF was here too. In fact she is still immortalised in a picture to this day as a reminder of her trip. A search in Google for "Big Jugs" (kids don't try this at work) will throw up a smiling photo of her, resplendently posing in front of two large jugs of beer in the Hofbräuhaus. Filthy minds the lot of you.
In 2006 I was also back with Football Jo for the most eagerly anticipated FIFA World Cup game between Saudi Arabia and Tunisia. Few wanted to miss that, and along with the Iran v Angola game in Frankfurt, it was the ticket nobody really wanted. However, it was actually a great day out in the sunshine with a 2-2 draw played out in almost constant noise of the two sets of fans.
So I was keen to return to the stadium, with the outside pulsing red. It is one of the most stunning stadiums from the outside in the world with its iconic architecture. None of your prefab flat-pack stands here. We are talking about a giant white tire plonked in the middle of the German flatlands, next to the motorway. A tire that is lit up at night and must have caused significant accidents on the road by people trying to take a picture whilst driving at 100mph…or was that just me in the World Cup?
So work finished, time to put on my party dress, or to be more precise my leiderhosen and head up to Schwabing-Freimann. I can try and get you excited by the fact the stadium was constructed with 120,000 metred cubed worth of concrete, 22 000 tonnes of steel or has 2,874 foil panels but you don't want to hear that. You want to know about the beer, the sausages and of course the crackling atmosphere. Ok, you've got it.
Bayern Munich Borussia Dortmund – Allianz Arena – Wednesday 27th February 2013