Kampala is a dynamic city, bursting with talent. I love this city.
Throughout August this year, Kampala Art Biennale is a showcase of contemporary art from Africa with the goal to expose, educate and create debate about the value of art in society. The Biennale consists of an exhibition of 100 artworks including paintings and photographs, showcasing 45 artists from 13 African countries working under the theme of PROGRESSIVE AFRICA and featuring panel discussions on the relation between art, culture and tourism.
The Muzungu: It's always great to hear of new initiatives for channeling people's creativity and giving them a stage and I'm sure the Kampala Art Biennale 2014 marks an important step in putting Kampala's art scene on the tourist route. I'm really excited to have been asked to help promote this event.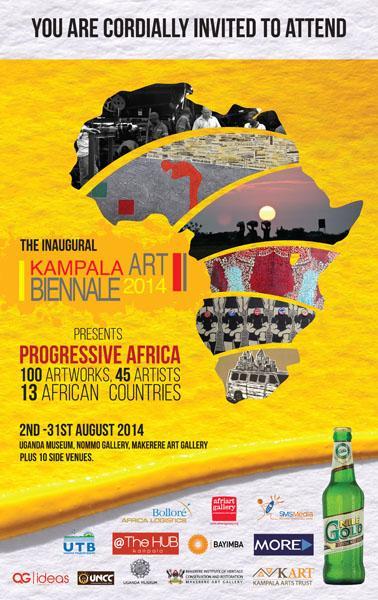 EVERYONE IS INVITED – and that means you! Inaugural Kampala Art Biennale " an international art event to promote Kampala and Uganda as an art tourism destination"
Kampala Art Biennale was established by the Kampala Arts Trust a collective of visual and performance art practitioners living and working in public and private spaces within Uganda's capital.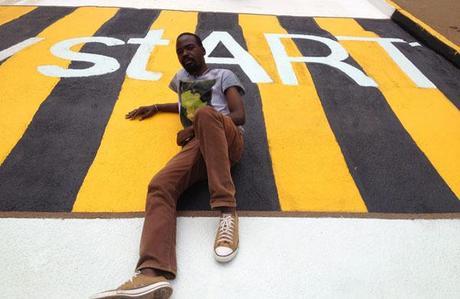 Daudi Karungi on the newly painted zebra crossing at Aga Khan School in Kampala this week "Educating Kampala society about the value and importance of contemporary art"
Kampala Art Biennale is afro-centric in nature and seeks to promote only artists (foreign or native) working on the African continent. It was established to recognize and integrate African contemporary art that is being created on the peripherals of the mainstream.
The Kampala Art Biennale is an opportunity to see visual arts in various venues across the city. Much more than that, it is an opportunity for debate and discussion on how Africa can transform itself and how creative industries can help generate economic growth. Promoting Kampala as a destination for art lovers is just one way the tourism industry can benefit and in turn help develop Kampala and Uganda.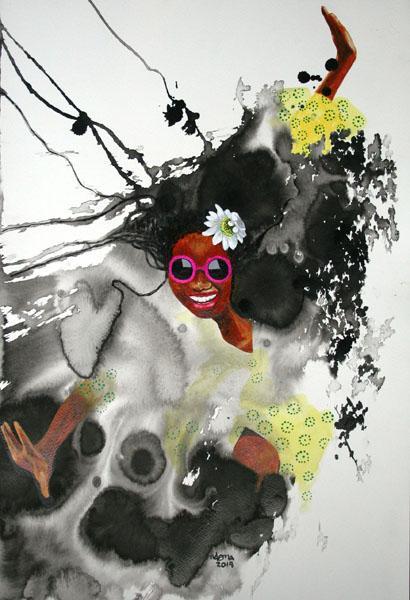 Paul Ndema, wings spread-38cm x 55cm-acrylics and ink on water color paper
Kampala Art Biennale: Theme
PROGRESSIVE AFRICA is a theme derived from the current Pan African – and increasingly global – discussion of AFRICA IS NOW versus AFRICA IS THE FUTURE.
Today in Africa, there are divergent views about the status of Africa in the global village. Some say the world is moving to Africa for opportunities while others say African economies are becoming global markets. These conversations discuss which strategies are the best to accelerate Africa's progress. All these dialogues suggest one thing; that something is happening on the African continent whether right now – or as it moves into the future.
Under the theme PROGRESSIVE AFRICA, the Kampala Art Biennale 2014 is part of this discussion. African painters, photographers, illustrators, cartoonists, writers and all 2D media artists have been invited to present their perception of the current status of Africa through visual art.
Viewers and visitors will then join in the discussion – pro or against the purported progress  – with the help of the invited artists' resulting 100 images, the aim being a questioning of African political, social and economic practices.
According to Kampala Art Biennale 2014: "The Biennale will serve as a conduit through which to start a debate that we so desperately need right now about a modern and progressive Africa starting right here in Kampala. There is a need to generate discussions centered on looking beyond aid to the financial resources Africa needs to enable transformative growth."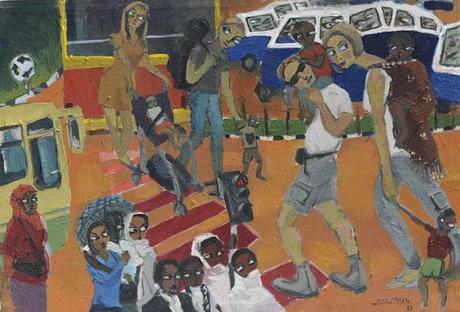 Zerihun Seyoum – Adoption-oil on canvas-2013
Kampala Art Biennale: dates to remember
1st  August 2014
Art, Culture and Tourism panel discussion with experts from the art, culture and tourism sectors. Uganda Museum, 16:00 hrs. On invitation, live on social media
1st  August 2014
Official opening of the Kampala Art Biennale 2014 PROGRESSIVE AFRICA exhibition. Uganda Museum, 17:30 hrs.
2nd – 31st August 2014
Kampala Art Biennale 2014 PROGRESSIVE AFRICA exhibition. Open to the public at various venues across Kampala.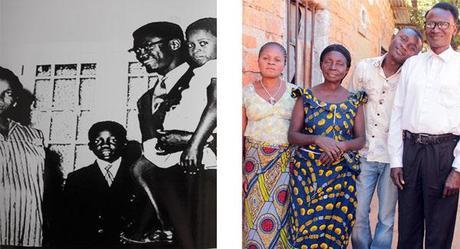 Georges Senga, UNE VIE APRES LA MORT, SIZE DYPTIQUES, 140Cm X 84Cm PRINT Inkjet on barité paper
The Biennale exhibition will be on throughout the month of August 2014 at various venues.
Kampala Art Biennale: Venues
The inaugural Kampala Art Biennale will take place across Kampala at traditional art venues such as Nommo, Afriart and Makerere Art Galleries and the Uganda Museum;
in community venues in heavily populated parts of Kampala, such as offices and hotels (to put art in people's everyday lives);
and in 'non-traditional art venues (such as factory, unoccupied buildings and Kingdom Mall building site opposite Oasis Mall).
For the full list of venues, please check the Kampala Art Biennale web site.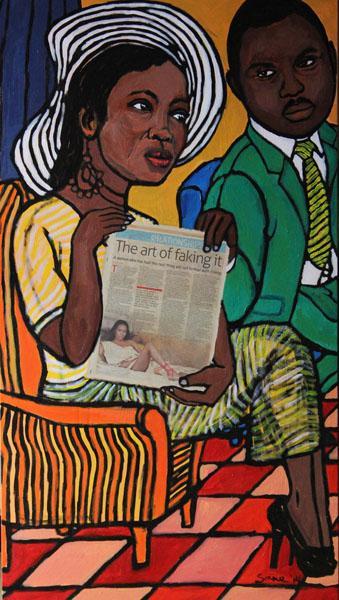 Eria Sane Nsubuga, The art of faking it, 2014
Kampala Art Biennale: selected artists
Uganda Ronex Ahimbisibwe, Paul Ndema, Kalungi Kabuye, Anwar Sadat Nakibinge, Eria Nsubuga Sane, Joshua Ibanda, Ronnie Tindi Chris, Ronald Kerango, Henk Jonker, Wasswa Donald, Babriye Leila, Gillian Gibbons, Shelley Van Heusen.
Kenya Samuel Githui, Justus Kyalo, Yassir Ali Mohammed, Brian Omolo, Michael Soi.
South Africa Samson Mnisi, Senzo Njabulo Shabangu, Nico Phooko, Rael Salley, Daniel Rankadi Mosako, Sylvie Phillips.
Ethiopia AlexanderTadesse, Ezra Wube, Yonas Melesa, Zerihun Seyoum
Angola Angel Ihosvanny Felicidade
Ghana Florine Demosthene, Akwele Suma GLORY
Nigeria Ufuoma Isiavwe, Olusola Otori
Togo Da Costa Kwami
Cote d Ivoire Gopal Dagnogo
Zimbabwe Tashinga Matindike, Gondo Danisile Ncube
DRC Georges Senga
Mali Harandane Dicko
Tanzania Jan van Esch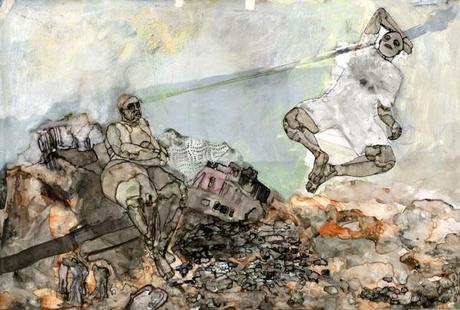 Florine Demosthene, Bitta Disappointment,72cm x 91.44cm, Ink, charcoal, graphite and oil bar on polypropylene
Kampala Art Biennale: side events
Kampala Art Biennale 2014 is partnering with other art and cultural organizations to run a series of side events. More details of these can be found on the Kampala Art Biennale website.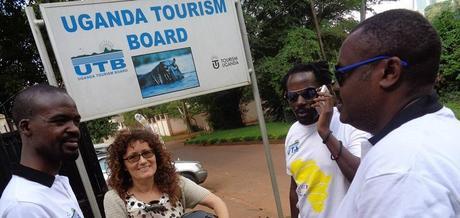 Launch of the Kampala Art Biennale at the Uganda Tourism Board with artists Daudi Karungi and Henry Mujunga and Simon Kaheru, Afriart Gallery. Oh yeah and some Muzungu chick ;)
What is a Biennale?
Biennale [pronounced bee-en-ar-lay] comes from the Italian word for "biennial" or "every other year." It is most commonly used within the art world to describe large-scale international contemporary art exhibitions.
A Biennale usually has an official theme, spotlights artists of the same nationality as its host city, and is held all over the host city in a number of venues simultaneously. Additionally, Biennales are non-commercial, meaning artists are invited or selected to take part, but don't sell their art at the Biennale.
 The Venice Biennale is the originator of them all, established in 1895. Around the world, there are now over 60 art Biennales.
"Born as a vehicle for national propaganda, the art biennial today has become an outsize phenomenon mobilizing not only artists, curators and gallerists but sponsors, celebrities and politicians, commanding huge press attention and deciding the careers of artists worldwide. For a city to host a biennial today has colossal ramifications."
Kampala Art Biennale: contacts
Elizabeth Mbabazi, Afriart Gallery, [email protected]+256 772 662 575
Daudi Karungi, Kampala Arts Trust, [email protected] +256 712 455 555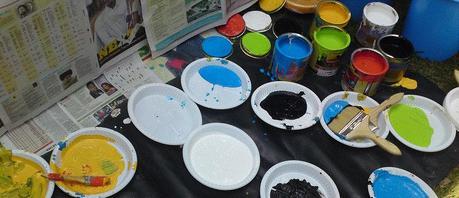 Launch of the Kampala Art Biennale at the Uganda Tourism Board: "Using art to rebuild the creative, jubilant and celebratory spirit of Kampala"
The Kampala Art Biennale initiative is part of a strategic partnership between Kampala Arts Trust and Uganda Tourism Board.
Encourage everyone you know to attend at least one of the galleries or venues in Kampala during August.
You can also follow Kampala Art Biennale on Twitter
Tags:
Afriart Gallery, Africa, art, day out, Kampala, Kampala Art Biennale, tourism, tourism experience, Uganda, Uganda Culture, Uganda Museum
« Save the Nile #saveadventuretourisminUganda – can you help?