Since my kiddos love pizza and they did not like the taste of raw kale, so I incorporated this goodness into pizza crust.
I am so happy that this Kale Crispy Thin Crust Pizza turned out well.  Thin and crispy and loaded with wholesome goodness.   My kids love the pizza so much that they don't even know that they are eating kale.  
Now I think I want to incorporate wholemeal flour into it.  Wonder whether this will alter the texture though.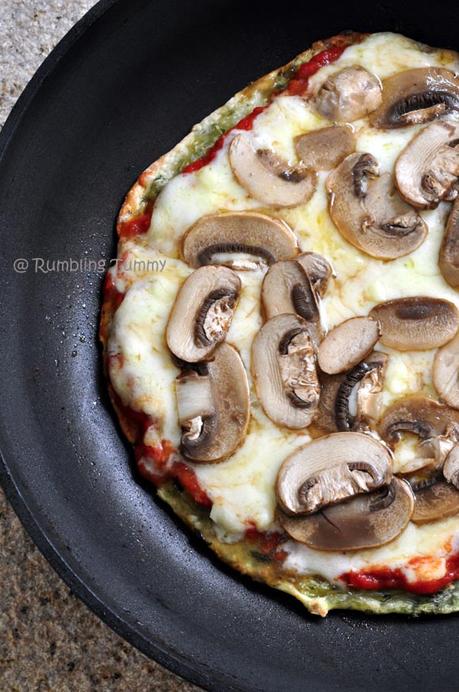 Findings: This recipe is easy to manage and the texture is crispy as well.
Definitely a keeper.
What you need
100g bread flour100g cake flour


¼ tsp baking powder

1 tsp s

alt100ml water2 tbsp olive oil90g kale (washed, dried and blended)
Pizza topping of your choice
Method:
Combine bread flour, cake flour, salt and baking powder together.
Add in water, kale puree and olive oil and mix to form a dough.
Knead until it is soft and pliable.
Divide into 3 portions.  Clingwrap and let it rest for 30 mins - 1 hour.
Remove and punch down.
Roll into a circular shape to fit into your flat bottom frying pan. (I recommend to roll it thinly)
Heat up the frying pan on low heat.  Once hot, the pan is ready to use.
Place rolled dough into the pan.  Let it cook until it puffed up.  (approx 5 mins)
Flip over and spread your pizza sauce and top with your favorite topping.
Cover and let it cook under low heat for 5 mins or until toppings are done.
Serve hot.
If you have enjoyed this post by Rumbling Tummy, be sure to follow this Rumbling Tummy on Facebook, Instagram, Pinterest, Twitter and Google+.