This kale caesar salad has a creamy greek yogurt dressing and crispy garlic chickpeas instead of traditional croutons. A delicious and healthier alternative to traditional caesar salad.
While I love caesar salad, it is definitely not the healthiest choice out there. Between the romaine lettuce, the dressing, and the croutons, there's not a lot of nutritional value to a caesar salad. Enter the kale caesar.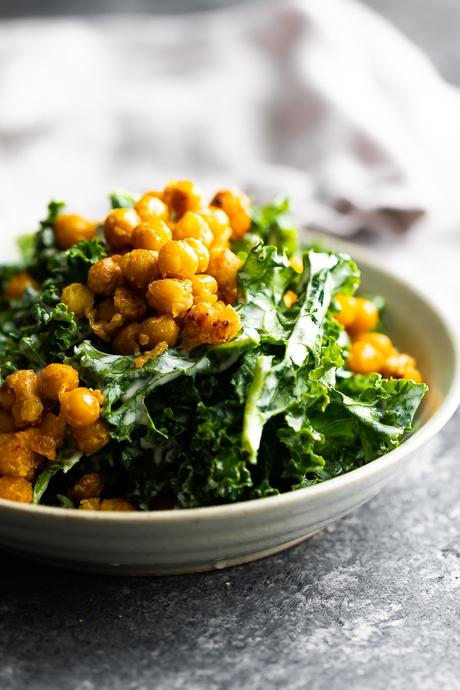 This kale caesar salad swaps romaine lettuce for kale, which is one of the most nutrient-dense foods available.
It swaps croutons for chickpeas, which add some protein to keep us feeling full.
And the traditional oil-heavy caesar dressing is swapped for a greek yogurt based dressing, lightening it up considerably.
Despite these swaps, this is one seriously delicious salad. Those chickpeas are highly addictive!
This kale caesar salad
is ready in 30 minutes
has many healthy swaps (kale, chickpeas, greek yogurt)
is a flavor bomb!