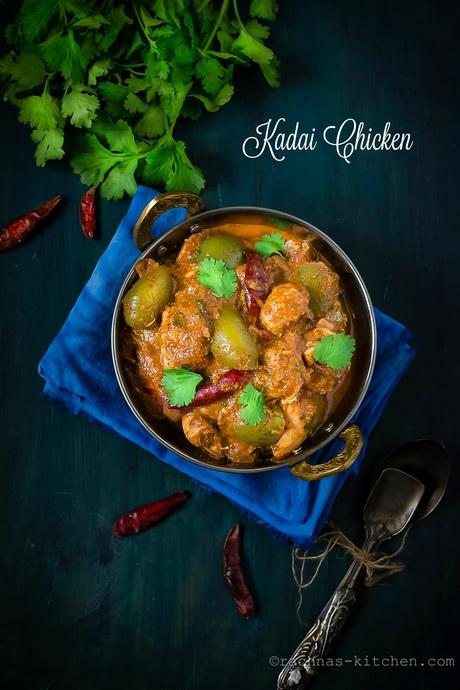 Kadai chicken recipe is a popular chicken gravy of northern part of India. It is a must try dish you can find in any North Indian restaurants. I have enjoyed it in numerous times. Kadai chicken is a mild chicken gravy cooked with crunchy capsicum and onions.
The main flavour and aroma comes from homemade kadai masala powder. You can use this recipe to prepare it easily at home. It is also a quick in comparison to other indian chicken recipes because in this recipe no chicken marination is required.
This kadai chicken is adapted from my kadai paneer recipe. The difference is that paneer is replaced by chicken and cooking time increased due to cooking chicken. That's it. This kadai chicken recipe is one pot dish and can be prepared in few minutes. Let's see the recipe .
Ingredients
2 tablespoons oil
2 medium size onion, cubed
2 heaped tablespoons homemade kadai masala powder
2 whole red chilies
1 teaspoon ginger garlic paste or grated
250 grams boneless chicken, washed & cleaned, cubed
2 medium tomatoes, roughly chopped
1/4 teaspoon red chilli powder
Salt to taste
2 large green capsicum, cubed
1 tablespoon greek yogurt or normal yogurt
1/2 teaspoon kasuri methi
1/4 teaspoon garam masala
1 tablespoon coriander leaves, chopped
Step by step kadai chicken recipe
Step 1. Heat a deep sauce pan on medium heat. Add oil to heat up. Add cubed onions and saute for 2 minutes. Onions will become translucent then add half of kadai masala powder. Mix together.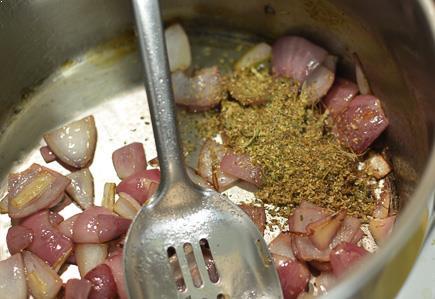 Step 2. Add red chillies and ginger garlic paste (I used grated ginger garlic). Saute for a minute or till the raw aroma goes.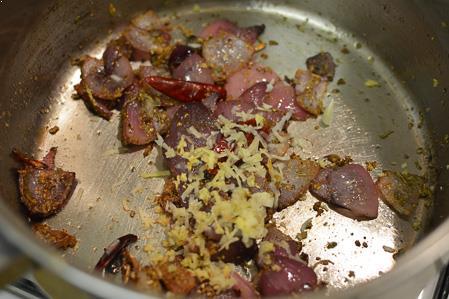 Step 3. Add chicken and saute for 2-3 minutes.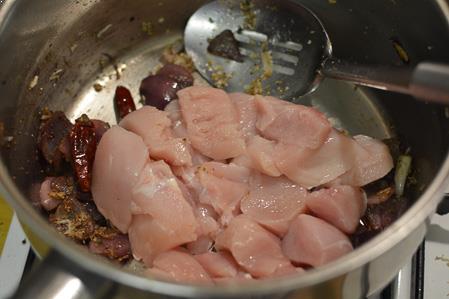 It will change colour from red to white upon cooking.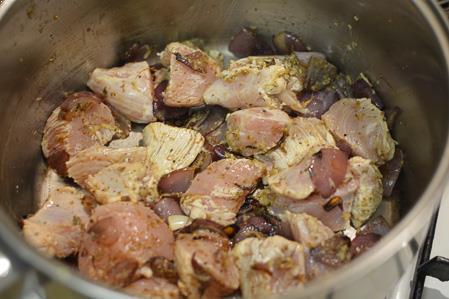 Step 4. Add chopped tomatoes and cover the lid. Cook for 3 minutes or until tomatoes are mushy.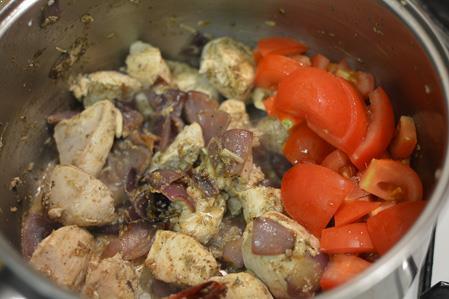 Step 5. Add green capsicum and saute for 2 minutes. Add water to adjust consistency. Let the kadai chicken cook for 5 minutes on low heat with the lid on.
Note - Add boiled and warm water to adjust consistency.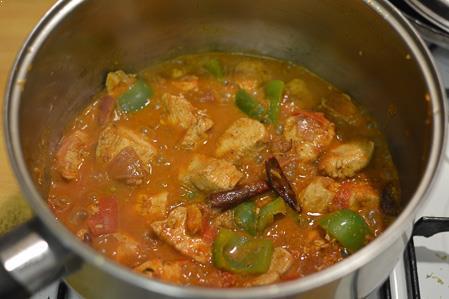 Step 6. Then sprinkle kasuri methi, garam masala, remaining kadai masala powder and yogurt. Mix everything.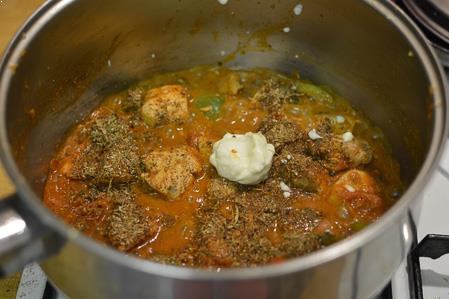 Step 7. Add chopped coriander leaves. Let it simmer for 2 minutes.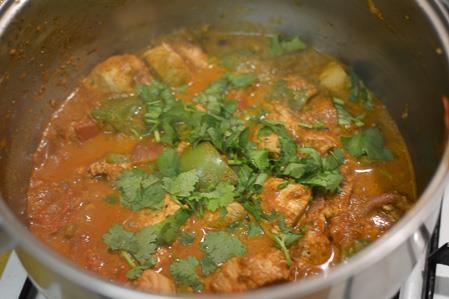 Switch off the gas. When kadai chicken cool down, consistency will be thickened.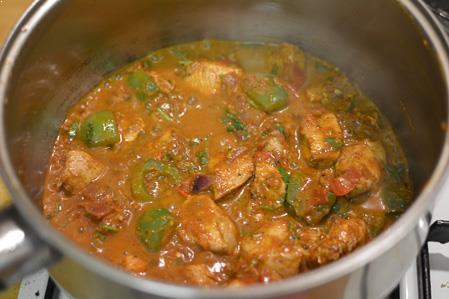 Delicious kadai chicken is ready to serve with chapati, naan or rice.
Recipe card - Kadai chicken recipe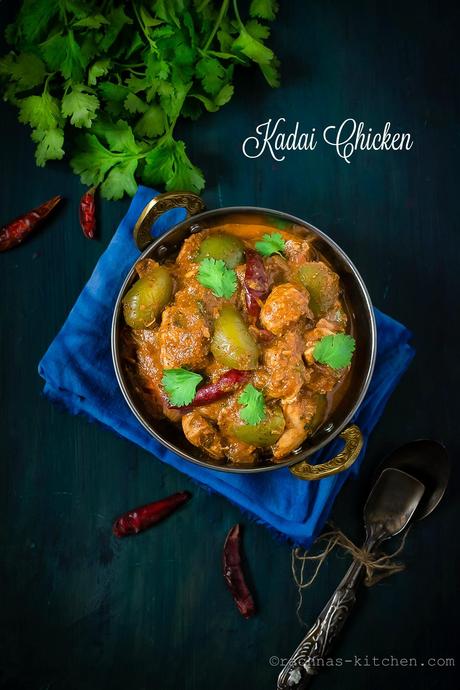 Some other chicken recipe are available on blog
1. Chicken kurma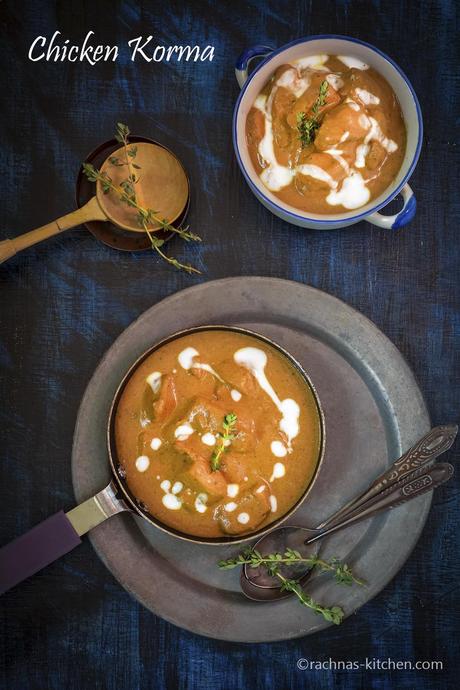 2. Authentic butter chicken recipe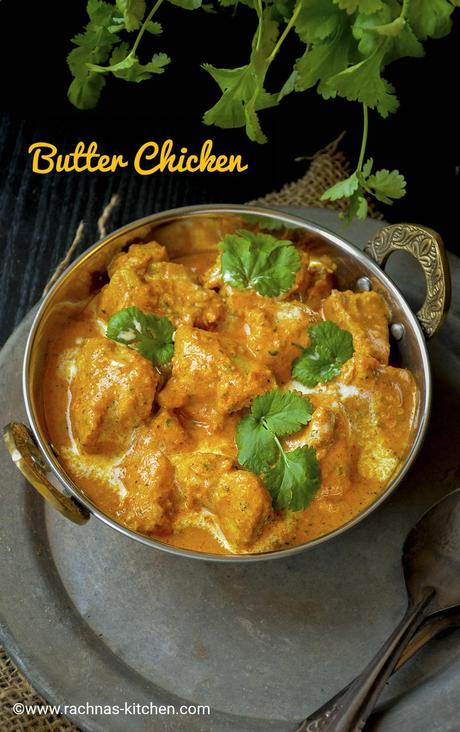 3. Chicken vindaloo recipe