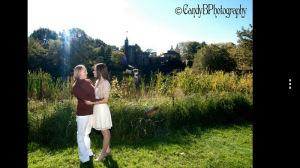 Kacy and Christina are from Allentown, Pennsylvania. They live there with their three dogs and a cat. They met through a mutual friend in Summer 2003 and have been together ever since.
Christina proposed to Kacy on their sixth anniversary of being a couple while they were on vacation in Ocean City Maryland in 2009. They were exchanging anniversary gifts and Christina told Kacy to close her eyes and when she opened them Christina was down on one knee, and she asked Kacy to marry her. Of course, she said yes, and a year later Kacy gave Christina a ring while they were on a day trip to Atlantic City. So, they each got an engagement ring.
They did not give much discussion to any locations other than New York, for a lesbian couple living in the Tri-State area, it seemed the obvious choice, due to it's marriage equality laws. They chose Central Park because they knew it would be the most beautiful location in New York City. Luckily for them, they live close enough to be able to drive to the city for the day.
They got married just two weeks before the weekend when Hurricane Sandy struck the East Coast, so they were fortunate with the weather. That week saw beautiful sunny blue skies over the city. They has chosen the Fall to marry because they knew the foliage would be a lovely color, and it would make their photographs perfect. They like many of the locations in the Park, but they chose Belvedere Castle for their ceremony. Christina is a history buff, and loved the idea of marrying beside a beautiful castle, like a queen. They felt that the building was a perfect fit for their personalities.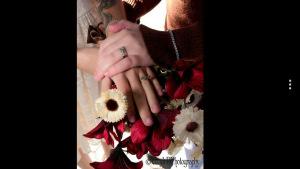 They had a small ceremony with close friends and family. Kacy and Christina had been a little concerned about the number of people in the Park, and they did have some concerns about how private their ceremony might be. They were worried that somebody may interrupt them, but nobody did, although a passer-by did stop to watch the ceremony, which can be quite common in Central Park. Members of the public will often stop to congratulate the couple, and maybe snap a quick photo.
They each had bouquets with red and white flowers. Kacy chose white pants and a burnt orange turtleneck to complement the Fall colors in the Park and Christina wore a white dress, but had to wear a sweater because even though the sun was shining, it gets chilly in New York in October. They did they own hair and makeup at home before the drive in to the city and changed into their wedding outfits in the bathroom right beside the castle.
They said that they would recommend marrying in Central Park to anyone, as long as you do not feel the need to have complete privacy for your ceremony, because people will pass by and they are quite likely to get into your photos. Their main advice to anyone considering a wedding in Central Park was to relax and enjoy it, and to take advantage of the beautiful foliage that's all around the Park.