Last Thursday, February 28th I made my way to The Bay on Queen St in Toronto to hear about the latest, and second, collaboration between J.W.Anderson and Topshop. Truc Nguyen from Flare Magazine was the evening's hostess. Fresh from London Fashion Week, she provided the audience with a taste of what she saw at the Topshop show, her brief chat with Topshop darling and muse, Kate Bosworth, and her love for J.W.Anderson, including the design features from this latest collection that she loves most.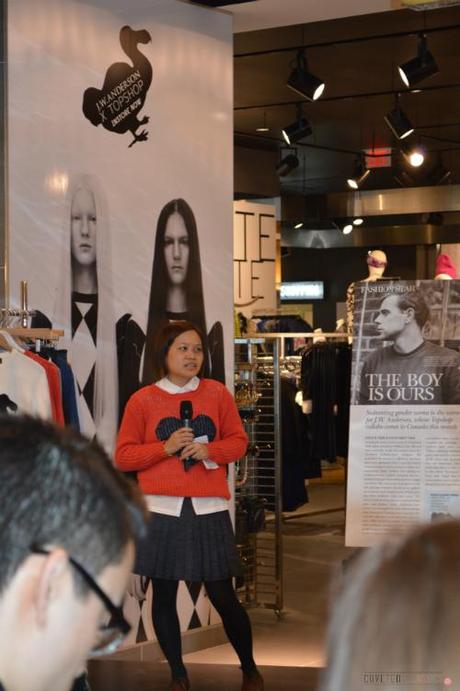 Truc Nguyen from Flare Magazine speaks about the collaboration between J.W.Anderson & Topshop. 
There's a good chance that you haven't heard of J.W.Anderson. While his popularity has grown exponentially in the UK, his work is gaining North American attention, possibly in part thanks to the commercial attention that a partnership with mega-retailer, Topshop, garners.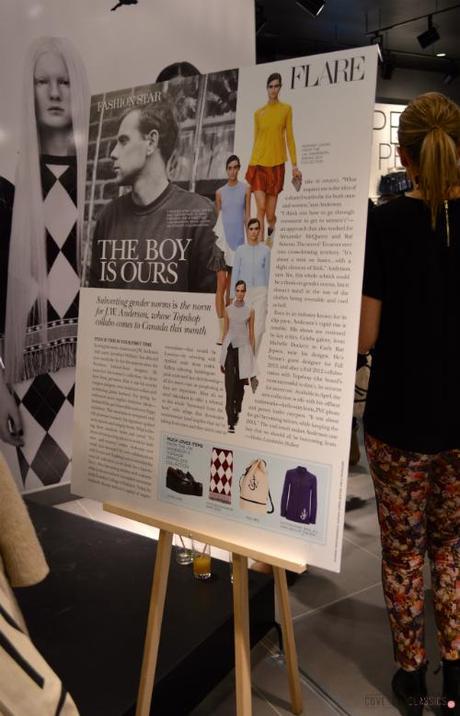 Flare was there and has introduced this talented designer to the Canadian audience in the past. 
J.W.Anderson originally started out as a menswear designer. His collections quickly gained notoriety among a fanbase made up of a female audience. As a result, the designer responded with a women's collection which has shown at London Fashion Week since early 2011. J.W.Anderson's modern cool esthetic translates into clothes that are not easily identifiable as gender specific, despite appearing as either a men's or a women's line. I believe that this speaks to a younger audience that has a growing desire for pieces with interesting, yet subtle, cuts and shapes that defy typical gender associations.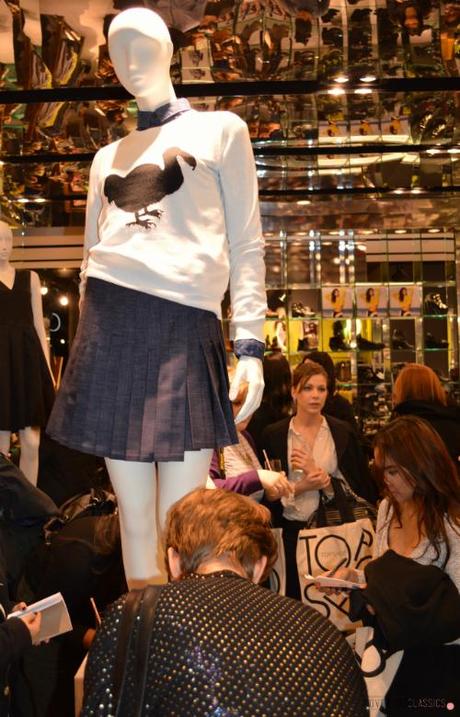 The dodo bird and denim can be found throughout the J.W. Anderson collection for Topshop. 
Despite the distinguishably feminine items such as novelty sweaters with a heart or dodo bird motif, and a pleated denim kilt, this collection gives a nod to J.W.Anderson's design upbringing. Truc Nguyen pointed out the menswear influences of the boxy cut, as well as the lower hem on the shoulders of the button-down shirts. The shoes in the collection are also flat with a heavier feel to them, similar to those found in a prep school uniform. The new collection doesn't just play up the preppy trend, it reinvents it in a style specific to J.W.Anderson.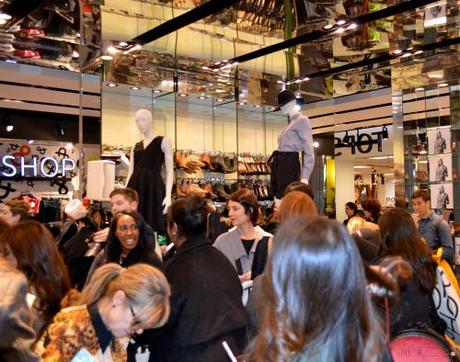 Style fans of J.W.Anderson packed the small space in The Topshop boutique at The Bay, Queen St.
If you're interested in J.W.Anderson, or would like to get a hand on this reasonably priced collection, make a trip to the store and check it out before it's scooped up. These 'designer meets high-street' collections go fast. The collection is available now at The Topshop stores at The Bay in Toronto and Vancouver.