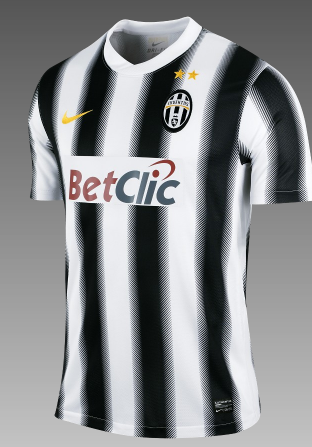 This season's Juventus kit will have a futuristic look at home as they mark a new era as they are moving into a new stadium.
The new stadium where the old  Stadio Delle Alpi was located was built from the ground up that will have a capacity of about 41,000 spectators.
The template of the first kit will have their traditional design with the white and black horizontal stripes.  Nike will implement a look that will give it that futuristic look.
The kit will have a look inspired by their new state-of-the art home , reflecting the columns that rise up to the roof and blend in with the surrounding mountains.
The back of the jersey, particularly under the collar you see the word  'Juventus'.  Behind the crest you will find the phrase  'Forza Juve'.
Each uniform is created from 13 plastic water bottles.  This revolutionary process in fabrics aids in the reduction of energy consumption by about 30% compared to traditional polyester and prevent the disposal of about 100 million plastic bottles to be tossed in waste disposal.   In turn, the entire kit will be 13% lighter compared the previous one.
For more information, log on to Nikebiz.