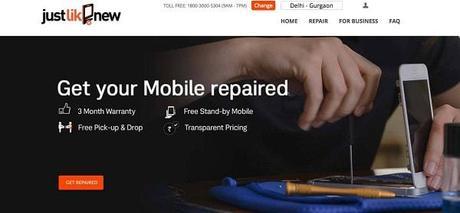 No matter how good our smartphone is, it can develop malfunctions. And of course, it is very prone to accidents like falling from heights or taking a dip in the water. When a smartphone breaks down, it means repeated trips to service center. That sort of mobile repair service is quite inconvenient and time consuming in today's busy lifestyle.
Also, these days many international and local brands are rising up in Indian smartphone market. Not all of them have a well established network of service centers. So users of smartphones of these brands often have to face many hassles to get their mobile repaired.
Online mobile repair services that offer repair of smartphone and tablets of any brand can help in solving this problem. Another advantage of these services is that they offer pickup of the damaged device from home and deliver it at the doorstep once the device is repaired.
JustLikeNew.in and Buzzmeeh are such online repair services for smartphones.
You can read my review of Buzzmeeh here.
Let's now talk about the JustLikeNew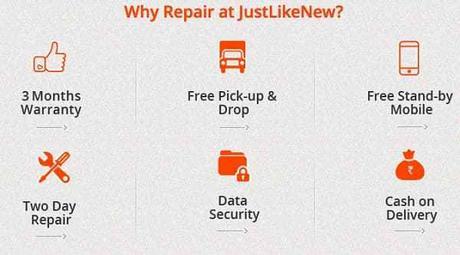 Convenience: JustLikeNew repair service can be accessed from anywhere in India for repairing of not just smartphones but also tablets. If you have a damaged or malfunctioning device, you just need to make a booking. The phone will be picked up from your home (for free in selected cities). The problem will be diagnosed. This will cost the pre-set diagnosis fees. You will be informed about how much the repair is likely to cost. When the phone is repaired, it will be delivered back to you. JustLikeNew gives a 90 days after service warranty. So in case the device is still not working well, you can get it repaired again at no cost if the complaint is raised within the 3 days after delivery and at a nominal service fee if the complaint is raised after 3 days but within the 90 days.
Standby Mobile: When we get used to smartphones, it becomes tough to live without one. And when our smartphones break down, we are often forced to go without them for many days. When you use JustLikeNew for mobile repair, they hand over a standby mobile so you can stay connected even when your smartphone is getting repaired.
Coupons: JustLikeNew also gives a link to their coupon partners. You can use coupons from any of these coupon services to avail discounts at JustLikeNew.

Sell: One thing that I really liked about JustLikeNew is that they even buy old devices. Just click on the Sell link given in the footer on their home page, enter details of your device and see the price that your old phone or tablet can fetch. If you like the price, you can accept the offer. If you don't like the price, you can reject the offer. If accepted, the phone will be picked up from your home and the money will be deposited in your account once the device is reviewed and accepted by the JustLikeNew team. Only the devices that are listed in the website's database can be sold. I have two very old Samsung smartphones that I wanted to sell. But those are not in JustLikeNew's list, so they were not accepted.
So if you need to get a smartphone or tablet repaired, or if you want to sell away an old phone, check out JustLikeNew. Don't forget to read teir FAQs to clearly understand the service.