Justin Bieber gets cozy with model Dree Hemingway in his new ad for his perfume Someday. The perfume ad's slogan is "Never let go with the new fragrance for her that gives back."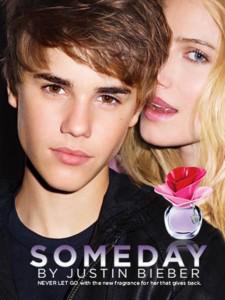 The Ad features Justin in a black jacket ,looking towards the camera with the model. In 30-second ad, 17-year-old teen pop star is featured getting cozy and flying around with blond beauty Dree Hemingway.
Canadian model Dree spritz Justin's new perfume on her neck and Bieber smells it, leading to imaginary world where both are floating, laughing, and cuddling in the sunset-tinged in a romantic sequence.