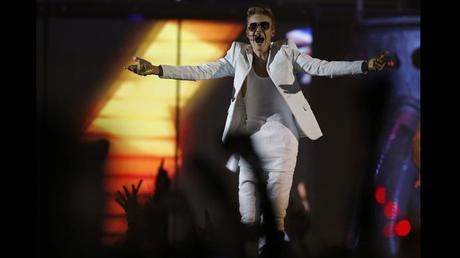 Via Fox News:   "Teen heartthrob Justin Bieber collapsed on stage from shortness of breath during a London performance on Thursday, a spokeswoman for the singer said.  "[Justin] fainted and took a 20-minute reprieve to the stage and was given oxygen," the singer's spokeswoman Melissa Victor told Reuters.  Bieber, 19, was taken to the doctor following the show. Representatives for the Canadian pop star said he was okay.  According to Reuters, Scooter Braun, Bieber's manager, told the crowd that "Justin got very light of breath, the whole show he's been complaining."  Victor said Bieber dismissed doctors orders to end the show early and instead returned to the stage to finish the show — the third of four at the O2 Arena during his "Believe" world tour."
Folks, I was about to hop a plane to London and give up whatever organ was needed to keep this guy going.  Real talk, when I saw this headline pop up I pretty much lost it.  But you know what?  Like a BAWSE the Biebs took some oxygen, a 20 minute break and said screw it, I've got a show to finish.  Even against doctor's orders, he went out and did it for the fans.  That's the true definition of a BAWSE.  You don't let a little shortness of breath keep you from throwing down in front of tens of thousands of fans.
Did I expect anything less?  Of course not, the Biebs is in peak physical fitness, is 19 freakin' years old and has been performing for years.  No way was he going to let a little light headedness keep him from his encores.