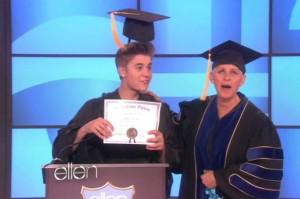 Justin Bieber never got a real graduation as he never went to a real high school.
So as a favour to the star, Ellen DeGeneres decided to throw a special ceremony for Justin on her show in the US.
Much to the singer's amusement, Ellen produced a gown and a cap – that was specially designed to avoid Justin's hair – and stepped onto the stage.
Ellen said: "I know you didn't have a traditional graduation ceremony, so I'm going to give you one right now. But you should know that in the future I can't always be there for you.
"I have a haircut next Thursday and Friday I'm at the spa and it's my cat Charlie's birthday on Sunday. So now that you're graduating, you're going to have to be able to survive on your own. You're going to need a strong character and a good business sense…and suspenders. Honestly, your pants need to be pulled up at some point."