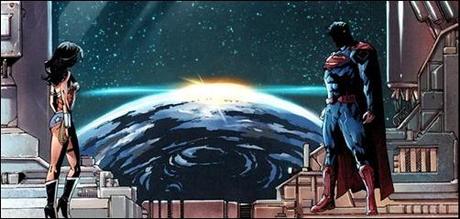 Awwwwk-waaaard!!
So here we have our first issue of JL-PK (Justice League – Post Kiss).  The relationship between Superman and Wonder Woman is off and running!
Or is it?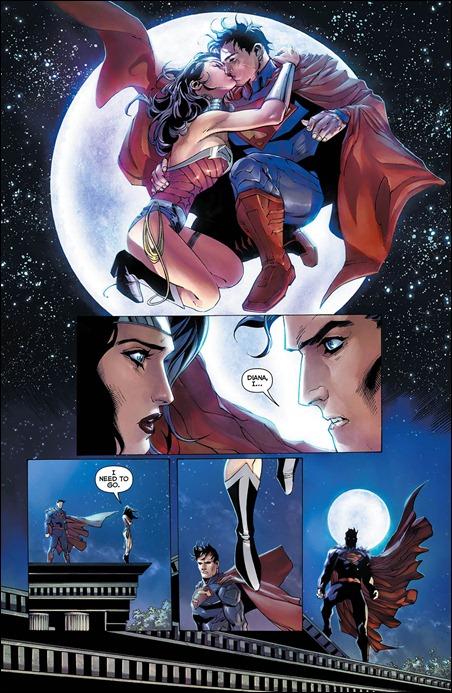 Status Quo or Status No?
I was shocked to see 'the kiss' go from status-quo to status-NO.  It seemed like an awful lot of buildup for nothing.  The hype had you convinced that they were going to dive in headfirst and hit the ground running with their relationship.  Now it appears they really want to make it a side story that develops over the next couple of months. Which means their relationship probably won't even peak until sometime next year.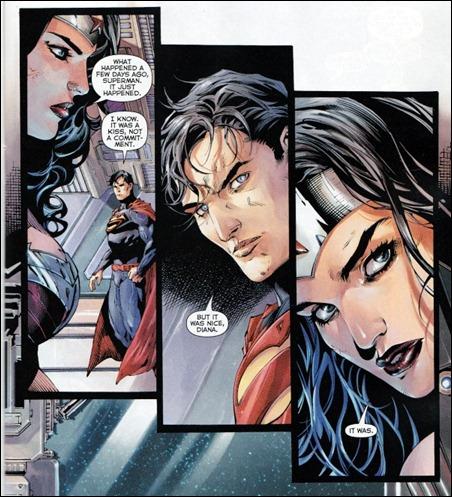 If kisses were commitments, we'd all be in BIG TROUBLE!!
People angry that Cheetah was able to hurt Superman need to stop and think for a moment.  Superman, as far as he can tell, is unstoppable at this point.  He hasn't quite met his match and you can see in some instances where his arrogance is his downfall.  He's slowly learning that he can't just walk in, punch the bad guy and it's game over.  Does Superman realize that magic can hurt him yet?  Have we seen him confronted with magic before this moment?  If so, was he aware that her powers are magic based?  Superman is still learning what he's capable of (Superman #13) doing and probably still has much to learn about what can hurt him. This isn't your father's Superman… this is New 52 Superman, which means he's younger and more inexperienced.
In a non Super/Wonder moment, we get to see some banter between Flashand Cyborg which was enjoyable.  My favorite line in the book is here when Flash asks Cyborg if he ever found himself attracted to a toaster.  Nothing like cheering someone up by making light of the situation, although one can really feel bad for our tin-clad teenager.  I am tired of Steve Trevor and this is hopefully his last appearance in Justice League as seems like they wrote his way out of the book.
All in all I thought this was a really good issue. Even if it seemed, from a writer's standpoint, John's needed an excuse to put Superman in danger right in front of Wonder Woman.  We've seen a lot of Superman's concern for Diana's safety throughout JL and now she has a chance to rage because he's in danger.  How does Superman return to normal form from his furry state though? Perhaps a Disneyesque kiss to reverse the curse?
Stephen J. Mitchell has been reading comic books since the early 90's and recently has introduced his own children to the world of comics.  He feels that comic books have evolved to a place in literature where anyone should be able to read one without being stereotyped.