My second JustFab order arrived and I am IN LOVE. I have become a huuuge JustFab fan in just 2 orders. I can't wait for my next order to get here!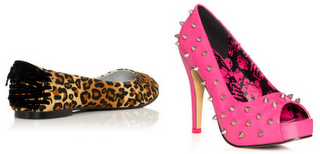 I was kind of iffy about the WTH's because I usually wear an 8.5 in pumps but went up to a 9. They will be perfect with some inserts! They are so comfy and the color is just as vivid in person as it is on the website. These are some seriously sassy shoes. This is my second Abbey Dawn purchase and I have a few others I'm watching...
I almost didn't get the Hayden's because I have some leopard print flats already but the tied back made me buy them, I loved the detail. This is my second pair of JustFab flats (first was Ain't no Pop Music) and they aren't stiff at all. You know how some shoes are stiff when you first get them and you need to wear them in? Not these babies! Love them!! If I see red Hayden back in stock in my size, I'll be snatching them up!!
You can get a JustFab account here!