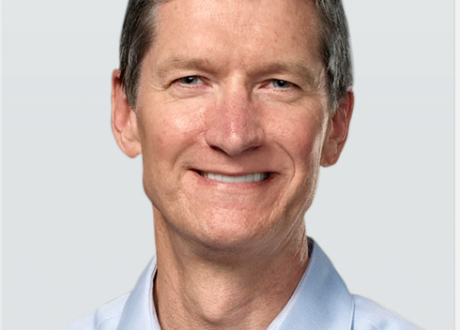 Tim Cook, the new CEO of Apple
As Apple chief executive Steve Jobs resigns from the top job, all eyes turn to his anointed successor, Tim Cook. So just who is Mr Cook, the Chief Operations Officer (coo!) a toiler in the obscurity of logistics, whilst the rock star Jobs took all the glory?
He had small beginnings, being born in Robertsdale, Alabama, where he studied industrial engineering at Auburn University, going on to do an MBA at Duke University (where he was a Fuqua Scholar). He loves the football team still, and is apparently a fitness fanatic. He worked at Compaq in 1997, but stayed there for only six months, and started at Apple in 1998. He's already been taking on responsibility whilst Jobs has been on medical leave (three times, in fact.) He takes the helm of a company worth around £134bn, which made £4.2bn profit in the last financial quarter.
A real gentleman. He's a "small-town football fanatic turned chief executive of the world's largest technology company," said Yinka Adegoke on Reuters. He has to prove now that his "technology instincts" are still sharp. "Jobs and Cook have balanced each other … Where Jobs is famous for his explosive temper, firing employees on the spot, Cook is described as down-to-earth and soft-spoken." He has a "southern accent and 'courtly demeanor'", said Gawker, that "can disarm subordinates, and Cook never raises his voice."
"Tim has been de facto CEO for some time and the company has been hugely successful," said Colin Gillis, an analyst at BGC Financial. "The vision and the road map are intact."
The man for the job. 

The Mirror gave us 10 things we need to know about Tim Cook. Among them were the facts that he spent ten years at IBM; Steve Jobs "took to him immediately"; he is known to send emails "at 4.30 am". He revolutionised Apple's supply chain, and last year took home a salary of £500,00, a bonus of £3.1 million, and stock options worth £31 million. The San Francisco Chronicle ran a similar piece. He's a workaholic; he knows Apple inside out. "Cook will do just fine in this role, at least on the operational side. As to vision, time will tell."
Anointed by the Jobs. He's a familiar face to those of us who follow Apple, said Thisismynext.com. His name was "already down" for the job, and he "clearly has Steve's blessing."
Why are you still here? One anecdote is quoted in the International Business Times : In a meeting meant to tackle a problem in China, Cook said: "This is really bad someone should be in China driving this." Thirty-minutes in the meeting he chided Sabih Khan, the then operations executive, saying 'Why are you still here?'. Khan responded by immediately booking a ticket to China, sans a change of clothes."
The most powerful gay man in the world? Gawker.com described Cook's accession as "an icon for gay advancement." He's been named at the top of Out's list of powerful gays, and has also received greater recognition "for the incredible dividends Apple is reaping from its supply chain strategy." He's locked up "crucial components for months or years, protecting products like the iPad from shortages, ensuring strong growth and margins for Apple and locking out would be rivals." He's gone from being "the most powerful gay man in Silicon valley" to "the most powerful gay man in the world."
More Apple news…

Steve Jobs resigns
Why Apple book has been brought forwards
Even the Queen wants an iPad
iPhone tracks users' movements
BlackBerry challenging Apple's tablet domination