If you are looking for more love in your life and a special love at that, why not adopt Vicktory Dog Mya. She is finally ready for her forever home!!! Mel's dad Richard Hunter has graciously offered to talk with anyone serious about adopting Mya, since she is a lot like Mel, for some special insight. Please share and help this precious little lady find her forever home. *ALL links you need to apply are on the site, and Miss Mya IS cat friendly.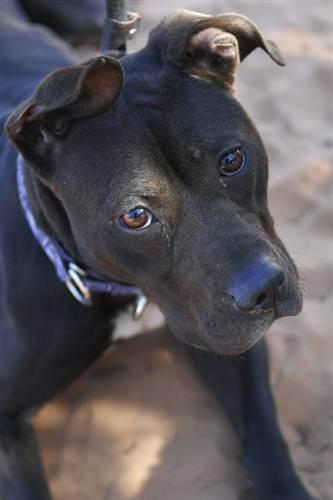 SANCTUARY VISIT REQUIRED* Mya was born in 2006 and was only 2 when she came to Best Friends. Though she is nervous around strangers, and may bark at them at first, she will wag her tail and accept treats and petting once she gets to know you a little bit. Her shyness hasn't kept her from having fun on walks and car rides. She also enjoys playing with toys and napping on a nice, soft, dog bed. And when it comes to other dogs, Mya has no trouble making friends! She even helps to socialize some of the puppies here! Cats seem to be no problem either; she has met and hung out with a few of them. Mya is ready for a home of her own. Do you think you might want to meet her?

like oscar, she is shy with people, but really comes out of her shell with her dog friends.

http://bestfriends.org/Adopt-A-Pet/Sanctuary-Animals/Search/Dog/25189707/

when i first met Vdog Ginger in 2009 or 2010, she was very shy too hiding in her crate away from people but boy has she blossomed the last few years. Thanks to all of the love, patience and compassion of her family, Ginger even went on a couple of pit bull walks, with LOTS of strangers. she has traveled and moved from Central California to New Orleans, and made other great strides.  If you are up to the task of becoming one of a very unique group of dog guardians, am sure that you will be welcomed with open paws and arms.