Just Release The Album Already, Taylor Swift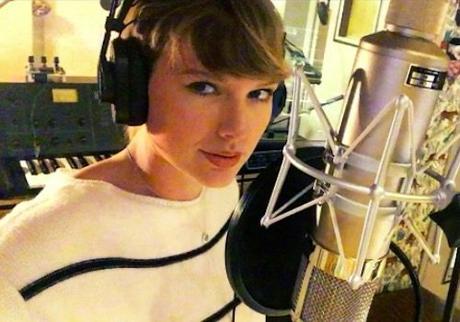 Taylor Swift has released a fourth song from her upcoming  album Reputation. It's called "Call It What You Want" and it's a combo "this goes out to the boyfriend I bake for"/"my narrative still includes a 'fuck you' to my jealous haters"-type ditty. iTunes claims Reputation will have 10 songs, so I guess expect a couple more until the album officially drops next Friday?
Also this song sounds like the second aural blowjob she gave boyfriend Joe Alwyn. Tom Hiddleston needs to sit this one down and have a preemptive intervention before they make the relationship public reveal to fulfill the next item on the Reputation marketing checklist. "Don't drink the Kool-Aid" has become "Don't wear the tank top!"
People had one of their preeminent musicologists break the song's lyrics down and connect them with recent events in Taylor's serpentine life.
In the first verse, Swift sings that her "castle crumbled overnight," likely referencing her drama-filled 2015 that saw high-profile breakups with Calvin Harris and Tom Hiddleston and a reignited feud with Kanye West and Kim Kardashian West.
Since she probably owns an actual castle somewhere, who knows? Maybe the drawbridge is off-kilter.
"All the liars are calling me one / Nobody's heard from me for months / I'm doing better than I ever was," she continues. After performing at a Super Bowl party in February, the star largely went under the radar for the rest of 2016 and secretly dated Alwyn for months before news of the relationship went public.
This would be the time when she was having dudes carry her around in boxes? THAT would have been a hot lyric.
The lyrics from the song that probably allude to her relationship reference her wanting to "wear his initial on a chain around my neck" but immediately stressing it's "not because he owns me!" You got it the other way around, son. It's Taylor who passes you the bearding contract to be signed across her solid-gold snake desk (one's brand should even extend to your home furnishings)!
Besides the lyric video, Taylor also tweeted a snippet of the track. It came complete with a supercut of Taylor living her best life by sipping wine, riding a horse and  laughing at her dog. Oh, and there's a roaring fire. It makes you wonder whether or not Taylor knows she's made herself into an erectile dysfunction pharmaceutical commercial. All she's missing is footage of her and boyfriend Joe holding hands in matching bathrobes in a meadow.
"Call It What You Want" available now. @applemusic
Pre-order #reputation: https://t.co/oExj2XFGvH pic.twitter.com/EWxoTpSzIT

— Taylor Swift (@taylorswift13) November 3, 2017
Pic: Instagram
Source: Just Release The Album Already, Taylor Swift
3 total views, 3 views today