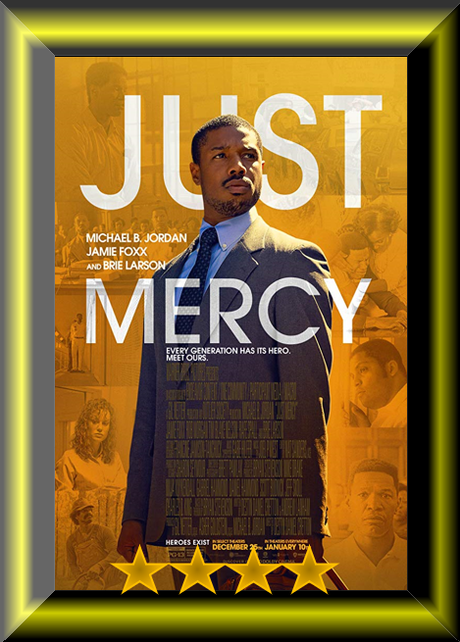 Director: Destin Daniel Cretton
Writer: Destin Daniel Cretton, Andrew Lanham (Screenplay) Bryan Stevenson (Book)
Starring: Michael B Jordan, Jamie Foxx, Brie Larson, Rob Morgan, Tim Blake Nelson, Rafe Spall, Marcus A Griffin Jr, O'Shea Jackson Jr
Plot: World-renowned civil rights defense attorney Bryan Stevenson works to free a wrongly condemned death row prisoner.
Runtime: 2 Hours 17 Minutes
There may be spoilers in the rest of the review
Verdict: Eye Opening
Story: Just Mercy starts when Bryan Stevenson (Jordan) learns the struggles of the poor, mostly black men on death row for crimes they didn't get proper representation in court. Gaining the funding to start helping these men, one case Walter McMillian (Foxx) takes center stage.
Bryan must battle a legal system that doesn't seem to want to let a black man have a fair trial, to prove that Walter never committed a murder that was convicted on just one witness statement, no evidence was false, to save a man's life and change the system forever.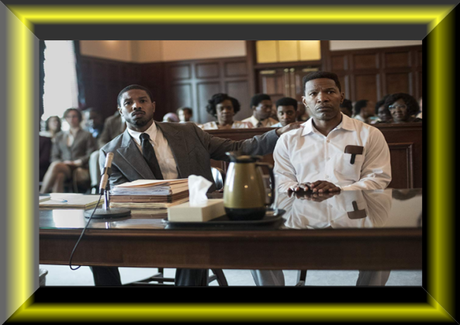 Thoughts on Just Mercy
Characters – The characters here are based on real people, which shows the incredible work they went through, Bryan has just qualified as a lawyer and is willing to give up massive paydays to help the men trapped on death row, to get a fair trial and save lives. He will risk his life, reputation and career on proving, fairly that Walter isn't a murderer. Walter McMillian has worked hard his whole life, his one mistake made him an easy target for the police who wanted to frame a black man, now on death row, he doesn't have much faith of getting out, until he meets Bryan who shows him that somebody is willing to fight for him, even though he has always claimed his innocence and helped keep the fellow inmates believing they could get out. Eva Ansley works with Bryan, she leads more of the campaign, while helping study the law side, not fighting in the courtroom, she is the person that keeps Bryan going through it all, though not seeing her involved more in the courtroom, is slightly disappointing.
Performances – Michael B Jordan steps up here to prove he will be able to take leading roles in a more serious environment once again, he shows all the calm his character needs during the testing times. Jamie Foxx is wonderful as the wrongly convicted killer, showing how the system has beaten him down more than anything else. Brie Larson gets great scenes, but it is a mix of her character not getting enough scenes and seemingly more we don't learn about her character which leaves us wanting more.
Story – The story here follows the young lawyer that wants to fight for the rights of the men on death row, with his first major case being defending Walter McMillian, a man believed to be wrongfully convicted a crime he could never have committed. This is an important story, it shows how hard the people worked to campaign to give people a fair trial in a system which has shown countless cases of corruption, he shows all the struggles they would face and how the law will always hold people back from getting the truth out there fairly. We focus on one major case, while it does feel like we could watch many cases this man worked on, just to show us how unfair the law can be on the poor.
Settings – The film uses a few settings, the prison for the interviews, the courtroom, which as you all know is one of my favorite settings in film, offices and homes which show how hard everybody worked to get this story out there.

Scene of the Movie – The supreme courtroom.
That Moment That Annoyed Me – The law being this bad.
Final Thoughts – This is a wonderful important look at how the law works, not always as fairly as it should do, we have a massive story and brilliant performances from the cast.
Overall: Important.