Here's LW's Richard III… (no, that's not him hanging in a basket from the crane, but we really wouldn't put it passed him). On second thoughts, perhaps it's Mary from London Walks up there keeping an eye on all the Saturday afternoon walking tours with a pair of binoculars.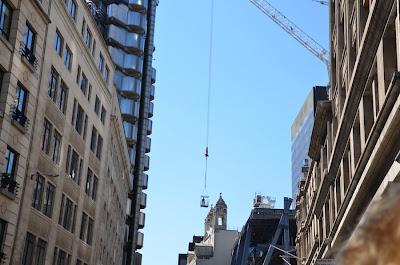 Richard writes… "A pic from London Walker Sara, taken during the Old City Walk (Saturday 2pm) of a man in a cage high up in the air.
Lloyds of London on the left and a rather grand neo-classical job in Portland stone to the right and the Cheesegrater, with its seven storey high triangles in place.  Richard Rogers to the left and Richard Rogers to the right."
The Old City Walk goes every Saturday at 2.00pm.