'–
How are these diamonds set in this ring? What are the differences in diamond settings?
Yesterday a couple came in who had never visited our showroom before.  They found us online – we love when that happens – and they sat across from Jonny who was looking at some fractured filled diamonds they had bought at a pawnshop.
Here are two freebies:
Don't buy from a pawnshop unless you know the owner and trust them implicitly.
Don't buy a fractured filled diamond.
What is a fractured filled stone? It is a stone that has been filled with a silicate or glass because it had a crack in it and so it has been treated.  By the way, if you are buying a fractured filled stone, or a treated diamond, you have to be told it is treated before you buy it.  Federal law.  Just an FYI!
Back to the couple… as they were trading in their not so great diamonds for really gorgeous diamonds and some diamond hoop earrings, they asked about her diamond wedding band.  She wanted to know how the diamonds were set in her band.
What are Gemstone Settings? Gemstone settings are the terms that describe the way gemstones are held in place in the ring.  There are many different types of gemstone settings.  The most popular are pave and channel set diamonds.  But, you can also have bead, shared prong, prong, bar, bezel set and invisible settings.
Different Types of Diamond Settings
Channel Diamond Settings – Channel diamond settings are most often seen in a single row are placed into a metal channel. The gemstones flow in a continuous row, because no metal is used to separate them.  This technique is used often as side diamonds on engagement rings, and the diamonds can be virtually any shape.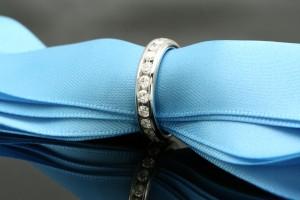 Pave Diamond Settings – Pave settings are made up of lots of small gemstones, often diamonds, set closely together. The gems are separated and held in place by little beads of the setting metal. The result is what looks like a continuous surface of diamonds or other gems.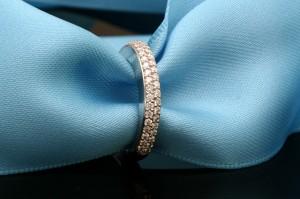 Invisible Diamond Settings – The invisible setting technique was developed in France more than two centuries ago. Grooves in each stone's girdle slip into a metal framework below the surface, but the metal cannot be seen, so gemstones sit side-by-side where they create the appearance of a solid surface of gems.  These diamond settings have multiple rows that sit side by side, while channel set diamonds are usually only one row.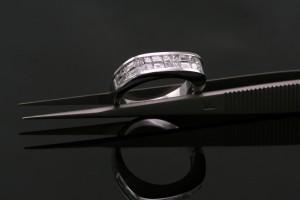 Bezel Diamond Setting – A bezel setting has a metal rim that encircles the sides of a diamond or gemstone and extends slightly above it. A bezel setting holds a gemstone securely, and the low, protective profile it creates makes a bezel setting a good choice for people with active lifestyles. A bezel setting is one of the oldest settings.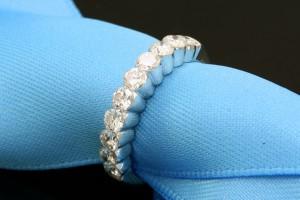 Bead Setting – Bead setting is a generic term for setting a stone directly into metal using gravers, which are essentially tiny chisels.  When you have multiple diamonds bead set next to each other it turns into a pave setting.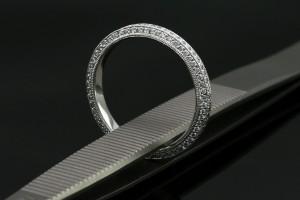 Prong Diamond Setting  – Prong setting is the simplest and most common type of setting, largely because it uses the least amount of metal to hold the stone, thus showing it off to its best advantage. Generally it is simply some number of wires, called prongs, which are of a certain size and shape, arranged in a shape and size to hold the given stone, and fixed at the base.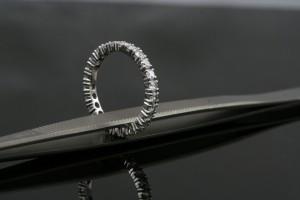 Shared Prong Diamond Setting – This is a variation of the classic prong setting, where the prongs are wrapped around the crown of a stone to secure it in place. This type of setting minimizes the presence of metal, allowing more light to pass through a diamond or gemstone.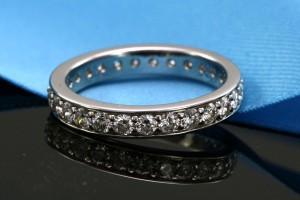 Bar Channel Diamond Setting – The Bar Channel Setting is a more secure variation of the traditional channel setting. The diamonds or gemstones are secured in place between two vertical metal walls on either side of each diamond.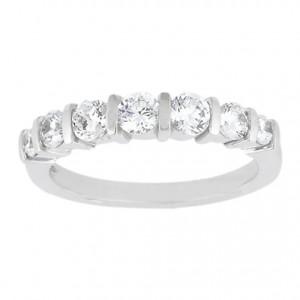 So, now that you know all the different types of settings, what diamond settings are your rings?