Here is the latest Jurassic World international poster! The movie's title entails "World", so there's nothing more trivial that the poster is published in another language than English.
In the poster, Pratt's character, "Owen Grady", runs away from the mighty and ever-hungry Indominus Rex.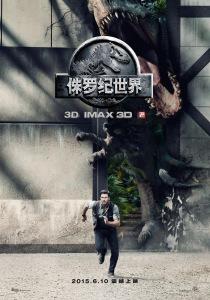 In Jurassic World, the story of the famed theme park continues 22 years after the events of the first Jurassic Park. With attendance sagging, the park's directors engineer a entirely new breed of dinosaur, The Indominus Rex, in a bid to attract new visitors. They get more when they bargained for however, when the cunning and sadistic dinosaur breaks loose and terrorizes the park.
Jurassic World hits theaters on June 12.
B.