Friday 28th/Saturday 29th July 2017
After a half-hearted launch into the new season, I finally kick-started the new campaign last weekend by visiting three Junior clubs in the West Region.
The weekend racing trip with the lads was centered around a Saturday evening fixture at Hamilton Park, but since booking our hotel and transport, the Horse Racing Authority moved the flat season fixtures forward seven days. However, we still headed north and the disappointment of ticking off another racecourse, was duly compensated by three new football grounds to be had.
The three Junior clubs I picked to visit and the pre-season friendlies were...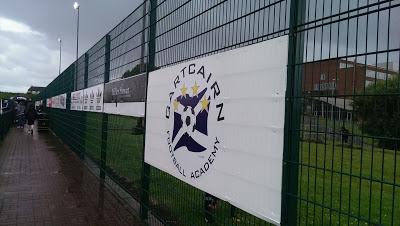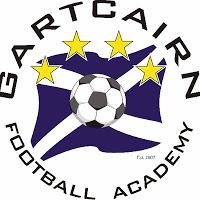 The
Gartcairn Football Academy
was founded in 2007, growing from two teams at under-8 and under-10 level to a roster of 700 players and 60 coaches. The academy now covers all age groups including an adult side, which successfully gained membership of the Scottish Junior Football Association in 2015. The club are based in Airdrie in the
former district known as the Monklands in North Lanarkshire, where Junior level football hadn't been played since the 1930's.
League Record
Joined West of Scotland Central League Division Two 2015-16 (finished 5th)
2016-17 (7th) Last season they reached the quarter-finals of the Junior Cup, where they were knocked out by Linlithgow Rose.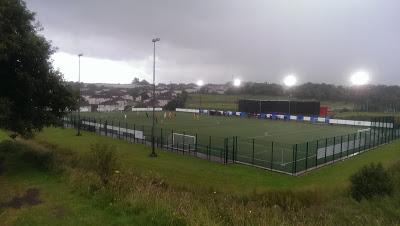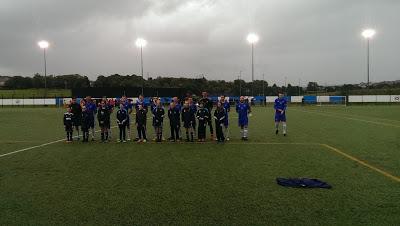 574.MTC Park.
In January 1914 the Academy officially opened their own facility at St Margaret's High School, but due to ground criteria issues the Junior team temporary played home games at Coatbridge Outdoor Sports Centre. The alterations to MTC Park meant Gartcairn Football Academy Juniors were able to play at their real home from January 2016. The ground is a standard 3G pitch, which cheekily use the 5-a-side goals with a black cover as team dugouts. There's a container cabin at the entrance at the far side which sells refreshments.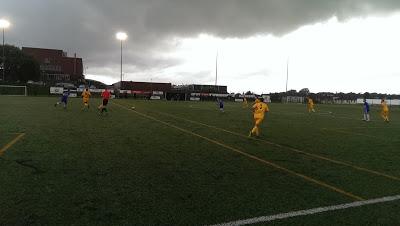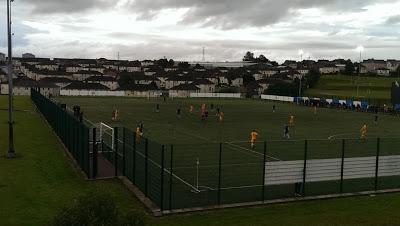 Gartcairn
faced
Clydebank
in their final pre-season friendly. The visitors bossed the opening stages but it was the home team which took the lead on 21 minutes when a  through ball saw Arbuckle beat the advancing keeper to tap into an unguarded net. On the half hour a collision in the box between the Cairn's 'keeper and a Clydebank striker saw the goalie come off worst, meaning he had to go off with which looked like a bad hand injury. As there wasn't a registered 'keeper on the bench he was replaced by coach Jim Lowe, who was helpless in stopping the visitors complete a convincing win.  They equalised before half time through Jordan Shelvey, before Ross Forsyth headed them into the lead soon after the restart. Alan Frizzell cut inside and produced a fabulous right foot strike on 74 minutes and they wrapped it up late on when Shelvey fired home the fourth.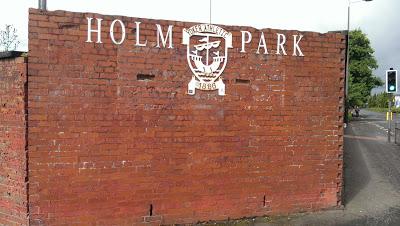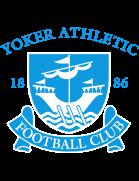 Yoker Athletic Football Club
are based in Clydebank in West Dunbartonshire, found on the north bank of the River Clyde.  "The Whe Ho" formed in 1886, based at Holm Park which they share with Clydebank FC. The club currently play in the West of Scotland Super League First Division.
Honours
Scott
ish Junior Cup
Winners: 1932–33 Runners-up: 1935–36
Central League Division 1
Runners Up 2011–12
Central League Division 2
Winners: 1988–89,  2010–11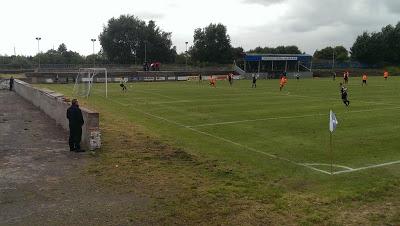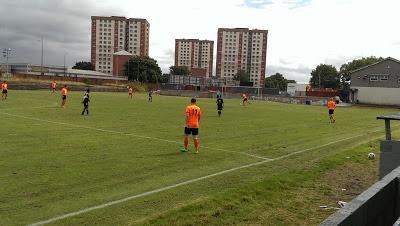 575. Holm Park.
This is another one of those Junior venues which has seen better days, but its discrepancies make it a classic ground full of character. There is terracing on three sides, with a covered enclosure one one side. The stand has a barrel shaped leaky roof, with the club name on the facade. The changing rooms are at the entrance behind the goal, with the clubhouse and club office upstairs. Another great feature is its location on the Glasgow Airport flight path, so plenty of plane spotting to be had if the match gets a bit boring. The capacity is around 3,500 and is shared with Clydebank FC.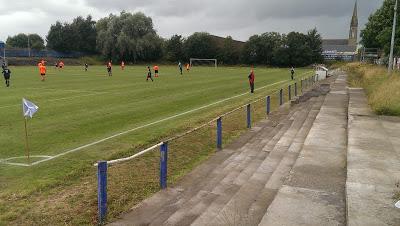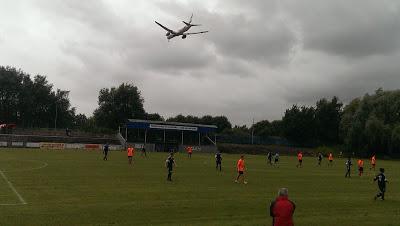 I was also tempted to go to the Partick Thistle game for their League Cup tie with
Stranraer
,
who made the most of their journey across to Glasgow by arranging a friendly for their U-20 side at
Yoker Athletic.
The young'un's were well beating with Shaun(or is it Sean?) Wallace grabbing the first four Yoker goals. The striker out muscled the defence before lobbing the 'keeper on eleven minutes, before grabbing his second with a neat finish ten minutes before the break. He completing his hat-trick soon after the restart with an effort from the edge of the box, and slid in to make it 4-0 with an hour gone. Before he could do more damage to the Stranraer defence he was substituted, so it was left to Beasant to tap in the fifth on 77 minutes. The last kick of the game was a 30 yard free-kick by Ryan Forester, which somehow went through the wall and the goalies legs for a late consolation for the visitors.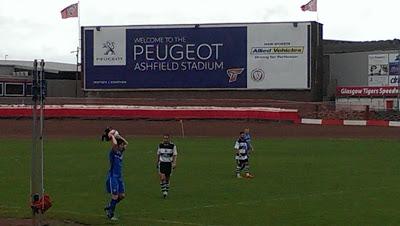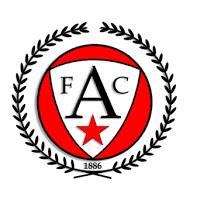 Ashfield Football Club
are based in Possilpark in the North of Glasgow. "The Field" formed in 1886 and proudly boast they are the f
irst Junior Club to win 100 Trophies. They play
at Saracen Park, which is now known as the Peugeot Ashfield Stadium, which also hosts speedway as the home of Glasgow Tigers. The club currently play in the same division as last night's hosts Gartcairn, in the West Central District Second Division.
Honours
Scottish Junior Cup
Winners: 1893–94, 1894–95, 1904–05, 1909–10
Runners-up: 1913–14, 1920–21
Glasgow Junior Football League winners: 1905–06, 1906–07, 1907–08, 1908–09, 1909–10, 1920–21
Scottish Intermediate Football League winners: 1928–29
Central Junior Football League champions: 1952–53, 1954–55
Central League C Division winners: 1968–69
Central Division 1
Runners Up: 2008–09
Central Division 2
Winners: 1990–91, 2006–07
West Super League First Division
Winners: 2010–11
Cup honours include amongst others the
West of Scotland Junior Cup in 1927–28, 1928–29 and the Glasgow Junior Cup eleven times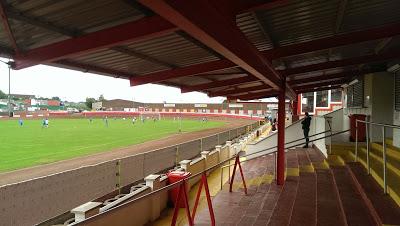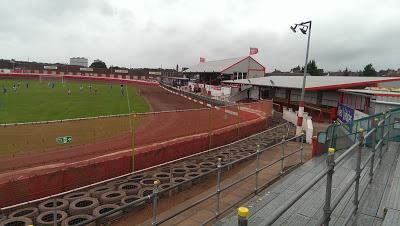 576. Saracen Park.
Ashfield have played at the ground since it opened in 1937, growing from a basic park pitch into a full arena geared for the speedway. There's a classic style main stand with an attached terraced enclosure. Opposite the stand is a section of open terracing with crash barriers, which continues around behind the goals. Admission is taking in the Tigers Bar, where they sell a selection of beer, hot drinks and snacks. The actual pitch width is only 50 yards, narrowed to accommodate the wide corners of the speedway circuit that replaced the old dog track.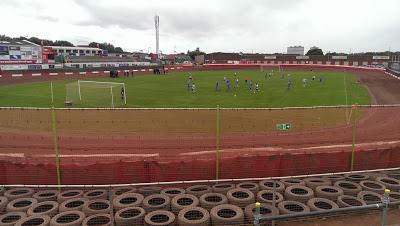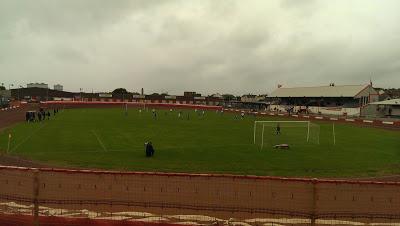 Ashfield
faced
Kilsyth Rangers
in an entertaining game which saw
the home team take a commanding three goal lead with goals from Cullen and Maxwell just before half time. On 63 minutes Giblin fired in a free-kick from the edge of the box and it seemed a case of how many goals they would rack up. Two goals in the space of three minutes from McFadden and Davidson got the Blue Loon back into the game with five minutes remaining, but in injury time a well worked corner kick routine saw Dymock fire home at the far post.
Matchday Stats
Friday
night 7.00ko
Gartcairn  1(Arbuckle 21)
Clydebank 4 (Shelvey 39, 85 Forsyth 50 Frizzell 74)
att.101hc
Admission & programme:none
Coffee £1
Saturday
12noon ko
(actually kicked off at 11.48am)
Yoker Athletic 5 (Wallace 11,35,47,60 Beasant 77)
Stranraer u-20 1 (Forester 90)
Att.17hc
Admission & programme: none
Saturday
2pm ko
(actually kicked off at 2.05pm)
Ashfield 4 (Cullen 40 Maxwell 42 Giblin 63 Dymock 90+1)
Kilsyth Rangers 2 (McFadden 82, Davidson 85)
Att.62hc
Admission £3
Programme:none
Coffee £1
#HeedHopper
This year's lads weekend beano saw the usual gang of Zippy, Honest Paul, Plymouth Pete, as well as obviously my good self head off on Friday morning to Glasgow. We traveled via the Carlisle train route and arrived at our hotel in the heart of the city by 3pm. We quickly dropped off our gear and headed off to a few boozers, before I left the lads to catch the 1808 to Airdrie.
My original planned Friday night game was at Dalry Thistle, before finding out the match was off from their opponents Greenock Juniors on Twitter. Thankfully there was a backup plan at Gartcairns Academy, with the ground a good twenty minute walk from the station.
On route to the ground it started to piss down, it wasn't just a shower either, it was that heavy cold type rain, just a couple of degrees short of hailstones. I must've looked a right knacker walking into the match, looking like a drowned rat with just a pair of shorts and a thin hoody as shelter from the deluge.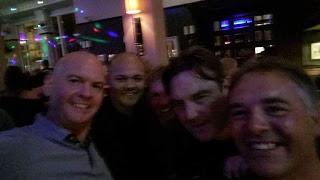 Us four with special DonD guest
Afterwards I ran all the way back to the station (to warm my body up) and finally got back to the hotel, where a hot shower took the chill off. I met up with the lads again at around ten o'clock and we just stayed around the Renfield Street area, where we were joined by Steve, a mate of Peter's from when they appeared together on the TV show
Deal Or No Deal
three years ago. Steve as it turns out played in the Juniors for Kilbirnie Ladeside and Rob Roy and he couldn't believe that I had wrote a book on the subject. The night ended with us in a Karaoke Night Club, where there was no ale and only lager or Guinness as a supping option, so definitely out of my comfort zone, but still an enjoyable night.
Zippy and Peter joined me for the two Saturday matches, so they could take a break from the drink! We caught the train along to Yoker and on our arrival, the match had just kicked off earlier than advertised. I pre-booked a taxi for 1.40pm for the ten mile drive to Ashfield, expecting to miss the end of one game and the beginning of the next(not something I like to do) but everything worked out fine, the earlier start meant I saw all the action at both games as Ashfield kicked off late. (as if they were waiting for us)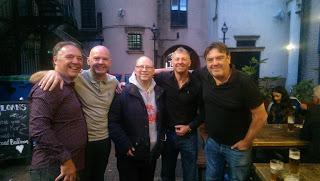 Us four with special 'hopper guest
We were back on the ale at 4.30pm, just a few bevvies and some bait, before popping back to the hotel to get our gladrags on for our night out. We were joined by Mark Wilkins (100FgC A33) who had been to Largs Thistle. He had time for a drink in three of the pubs on our crawl, before catching the Megabus back to London. We had a cracking Saturday night, in a variety of different pubs, ending up at the Merchant City area of the city.
From leaving Newcastle on Friday morning to getting back late Sunday afternoon we had a good laugh and overall a cracking time. We went to 20 pubs altogether, half of which were new ticks for me, as well as of course three new Junior grounds for my ledger. For next year's beano we've pencilled in a Nottingham weekend including a Saturday evening race meeting. I imagine we'll have a great time again, but it won't be as warm and welcoming as the few days when we belonged to Glasgow and Glasgow belonged to us.