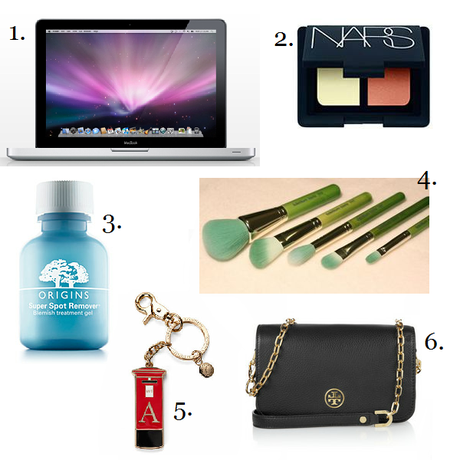 1. // 2. // 3. // 4. // 5. // 6. 
I really threw caution to the wind with this one financially. Oh yeah, we're talking break the bank and then some expensive.
The Apple Macbook Pro is the one thing on this wishlist that I am actively putting money aside for. Thank you for all your great advice on this week's blog post and on twitter! Really confident in my choice now. 
I've heard great things about NARS although I've never tried it. This little blush and highlighter duo seems like a great place to start. It's albatross/orgasm and those are the two shades that I seem to hear whispered about most. Might see if I can get a little more overtime at work so that I can justify spending £29 on a blusher (?!)
Zoella blogged about number 3. recently, and she certainly had perfect timing. My skin has gone mental this week, and this Origins Blemish Treatment Gel apparently works wonders. It's only £12 and that's not a huge price to pay for something like this which will probably last me ages. 
Somehow I'm continuing the Zoella theme (really need to read more beauty bloggers...) and I feel like I need these brushes from Shop Louella. I have tried MAC brushed before, and just didn't feel that they were worth the hefty price tag. Girl has to budget y'know!
Yeaah. Budget Shmudget. This keyring from Aspinal of London has been saved on my bookmarks bar for about four months now. I want need it. 
I can live knowing I will probably never own the iconic little black Chanel bag, so long as I can have that little black bag instead. It's from a designed called Tory Burch, which I have to admit I've never even heard of. But I love it. 
I've been searching for the little bag since forever, and I really think I've found it. I think I need to barter a pay rise...
What have you been lusting after this month?