First visit? Glad you're here! I hope you'll take a second to stop by my Facebook page and subscribe for updates so we can stay connected!

Follow
Happy summertime, everyone! I tried so hard to narrow down the links for this month's round-up, but I've decided that I need to include ALL the links I saved. If you have an afternoon or an evening to yourself, you should totally grab a drink and settle in for some awesome reading. Otherwise, I highly suggest pinning or bookmarking the round-up so you can come back to it whenever you have a few spare moments. It'll be worth your time – I promise. And as always, let me know what interested you the most, and if you think I missed anything.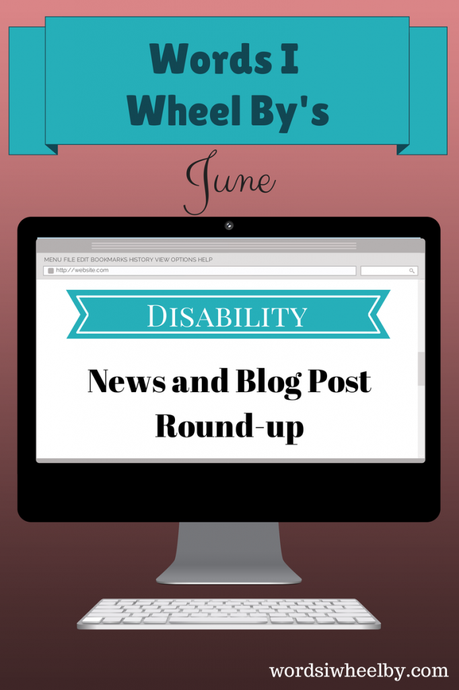 Disability News
StoryCorp Disability Visibility Project launches in SF Bay Area – An advocate I admire and respect immensely, Alice Wong, is coordinating this awesome project to provide a platform for the disability community to share their stories. If you live near one of the locations mentioned, don't miss out on the opportunity to get involved!
Service Dog Gets His Own Yearbook Photo, Right Next to His Human – This put a smile on my face, so I wanted to share. It's rather a-dog-able, don't you think?
Belmont Loser Compares Race to Playing Basketball with 'Kid in a Wheelchair' – Sorry for the happiness buzzkill, but this was such a ridiculous story that I wanted to share it as a PSA for people to think before they speak.
Anderson Cooper Goes Through A Harrowing Mental Illness Experiment – I understand why Anderson did this (yes, I like to think we're on a first name basis), but I feel that this experiment simply proves my belief that simulation exercises don't successfully educate people so much as evoke pity within them. I wrote about it on the Huffington Post in case you're curious as to what I mean. What do you think?
3D Printed Tactile Books For Blind Children, Created By University of Colorado Assistant Professor – What a fantastic use of 3D printing technology! I'd love to see these kinds of books become widely available.
With great power comes great disability – I find the title of this article slightly odd, but it's important because it shares news about the new disabled character in Archie comics. It's always important to note disability in mainstream media. Let's hope this is done well!
What People Don't Understand About Hiring Someone With A Physical Disability – I write for UNlimiters, which is a great disability-related website, so I was glad to see Justin sharing his wise words in such a respected business publication. Workplace discrimination needs to come to an end, and this article does a wonderful job of highlighting why.
Disability Blog Posts
Stop Telling Me That I'm Pretty for a Girl in a Wheelchair: How Your Words Contribute to Violence Against Women with Disabilities – This is such a powerful piece that I'll let just it speak for itself. Drop everything and read it right now.
Don't expect me to work for free – As a freelance writer and a passionate advocate, I'm often asked to volunteer my time. And while I'm always happy to contribute my time to good causes, I do need to make a living like everyone else. I think everyone in a position of power needs to read this.
#EducateSesame… An Open Letter to @SesameWorkshop from @GreggBeratan – As someone who appeared multiple times on Sesame Street to educate kids about my life with a disability, I'm quite disheartened that they've partnered with Autism Speaks. I know this is a controversial opinion, but please take a moment to read this letter and understand the perspective of so many amazing Autistic advocates.
The Importance of Continuing to Speak Out – If you put yourself and your story out there, you may be at risk of having it used without your consent. As a blogger who shares things about my disability, this was a cautionary tale I needed to read.
When "Disabled" is a Dirty Word…Thoughts on Terminology – I've often found myself confronted with the notion that disability is an awful, negative concept. I totally disagree – I'm proud to use "disabled" as an identifying term. Sarah Levis' reflection on why this isn't the case is eloquent and important to consider.
4 Lessons from My Failed Project as an Able-Bodied Ally – I was so taken by the honesty with which this post was written. I've encountered countless people who don't identify as disabled, and yet feel they know what's best for the disability community. To step back and examine that as this post does is actually a great way to earn respect from the people to whom you consider yourself an ally.
"Miss You Can Do It": A Rant On Traditional Beauty Pageants – Pageants are known for not being inclusive, and as such, disability-specific pageants have become a movement. Lisa Friedman's perspective on the idea behind separation rather than inclusiveness, and the supposed values behind traditional beauty pageants, feel spot on to me in a lot of ways.
"It's so sad when people have special needs": Thoughts on Inclusion from the Bus Stop – The exchange between writer David Perry and a 4th grader is brimming with social commentary about how society thinks about disability.
Not Your Mother's Wheelchair Etiquette – This post keeps it real about interacting with wheelchair users. Read it. Heed it. Stop treating me differently because I'm on wheels.
Phew! That was officially the longest round-up I've ever put together. Hope you found some pieces that resonated with you!

Past Round-ups:
May 2014April 2014March 2014February 2014
January 2014
Like what you read? Subscribe for weekly updates and be sure to confirm your e-mail!