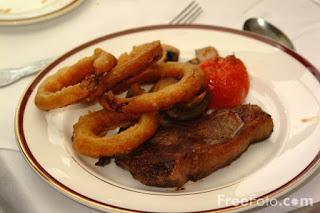 Photo Credit: Picture of traditional Sunday Lunch: Steak and Onion Rings,
by Ian Britton. Supplied by FreeFoto.com under Creative Commons License
June 22nd is...
National Chocolate Eclair Day, Global Smurfs Day, Baby Boomer's Recognition Day, National Onion Rings Day, Stupid Guy Thing Day!
PLUS -
interesting books to read and free printable crafts, activities and coloring pages.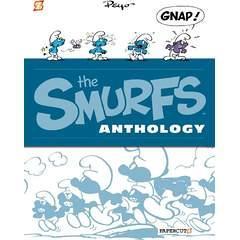 Global Smurfs Day
-- Celebrate the Birthday of Peyo, the Creator of the Smurfs, with Smurfy Events Around the World. Events included painting one of the famous White Towns of Andalusia blue and setting a new record for Largest Gathering of People Dressed as Smurfs within a 24-hour Period (Multiple Venues). This is a great way to honor Peyo's birthday and his legacy, by bringing the world together across generations for a day of fun and festivities.
Source
Read: The Smurfs Anthology
, by Peyo
-- When the Belgian cartoonist Peyo created a village of cute little woodland creatures for his heroes Johan and Peewit to discover, he couldn't have known that they would wildly outgrow those humble origins to become a worldwide phenomenon all on their own. More than 50 years later, The Smurfs continue to delight us all with their silliness, bravery, heroism, and heart, and now we finally have a definitive collection of Peyo's original comics to see where it all began.
Free Printables, Coloring Pages, Activities and Crafts:
• Smurfs Coloring Pages and Invitations
•
The Smurfs coloring pages
• Smurfs Printable Cupcake Toppers
• A Fun Smurf Craft
•
Make your own paper Smurf Taxi Cab
•
Smurftastic Foldable Puppet
•
Quick and Easy How-to for Making Your Own Smurf Hat
•
Smurfs Papercraft Series - Smurf Love
•
Smurf Village Papercraft
---
---
QUICK FREEBIE TIP:
Whenever you receive a freebie that leaks all over your mail - you should email the company and tell them. You might even get a full-size bottle of their product in compensation!
Click for more quick freebie tips
---
•
Enjoying all the freebies? Want to keep up with the latest free stuff, deals, coupons, and other ways to save money? Subscribe to
Frugal Freebies' email updates
or RSS Feed! - it's free!
•
Check us out on
Twitter
, and join in the conversation of even more great freebies, deals and coupons on our
Frugal Freebies
fan page on
Facebook
and
Google+
. We are even on
Pinterest
!