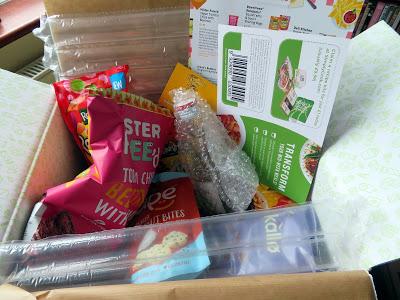 Every month I am the lucky recipient of a Degustabox.  Once a month, around the middle of the month, I am gifted with one of these lovely boxes which contain a delicious assortment of all things foodie.  I just love these boxes. Opening each one is tiny a bit like opening a Christmas gift. Always a surprise, and always filled with things that pique my interest and desire to try. Degustabox is a monthly foodie subscription service that sends out a range of 10 to 15 specially selected foodie products. I even have a code that  can give you which will  give you a £5 discount off of your first box. I will tell you about that at the end.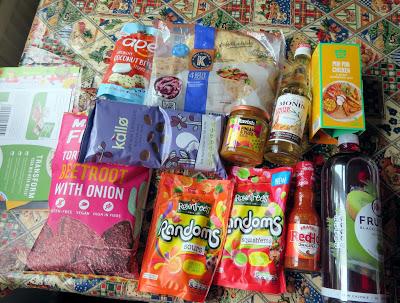 There's always a great mix of new products that I haven't tried before, as well as plenty of treats from more established brands. Quite often you will have the opportunity to try  new products before they arrive in the shops, so it can be a bit of a sneak peak! Each Degustabox costs only £12.99, delivery costs are included in the price, and there is no fixed contract involved. You can cancel at any time. I love getting these boxes! In my opinion, they are great value for money spent.  
 The July box had a Picnic Theme!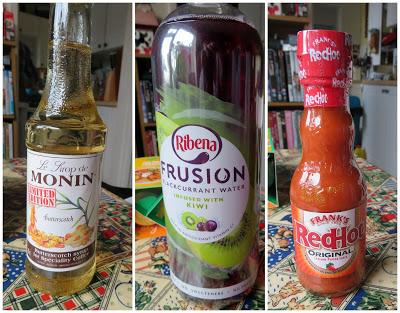 MONIN Butterscotch Coffee Syrup 1 X £3
Recreate the coffee shop experience in your own home by stirring 2 - 3 teaspoons of Monin syrup into your hot or iced coffee. Used and trusted by coffee shops around the world, the popular Butterscotch flavor is available for a limited time in the hot beverage aisle of selected Sainsbury's shops.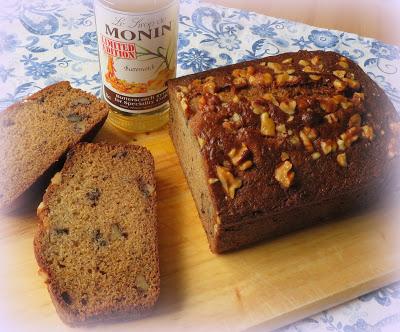 I actually used some of this to brush on top of Rich Banana Bread with excellent results.  It was a lovely touch to an already tasty bread! 
RIBENA FRUSION 1 X £2
Ribena Frusion is a refreshing and delicate blackcurrant water, naturally infused with real fruits and crafted botanical.  Frusion contains no sweeteners, is low in calories and rich in antioxidant Vitamin C which helps protect your blood cells from oxidative stress.
~Available now from a range of retailers in 425ml and 1 liter bottles: Sainsbury's, Asda, Coop, Boots, Morrisons and Independant retailers. 
FRANK'S REDHOT Original Cayenne  1 X £1.50
Frank's Redhot Original Cayenne Pepper Sauce is made with a premium blend of aged cayenne peppers that add a kick of heat and a whole lot of flavor to any BBQ. Its great taste made it the secret ingredient in the original Buffalo Wings created in Buffalo, NY, in 1964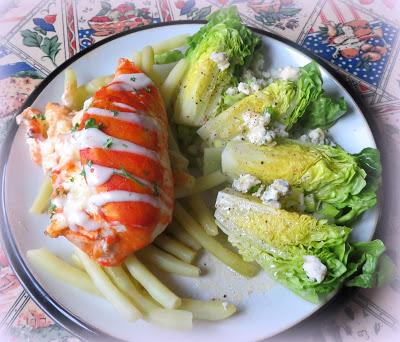 Stuffed Buffalo Chicken Breasts for Two.

 
ROWNTREES RANDOMS Squish'ems & Sours Sharing Bags 2 X £1.29
Let your random side out with every pack of completely unpredictable Rowntree's Randoms! Have the best of both worlds with our Rowntree's Squish'ems, squishy foam and fruity jelly all in one sweet. Or give your senses a zingy kick with our delightfully sour, quirky and completely unpredictable Rowntree's Random's Sours. 
SIMPLY COOK Piri Piri Chicken 3 Step Meal Kit 1 X £2.50
Cook restaurant quality meals at home in just 20 minutes! Just combine our chef blended authentic flavor blends with your own fresh ingredients. Discover our full range from around the world at simplycook.com.
~Choose 4 recipes for just £1(Including free letter-box friendly delivery) with code DGYUM at SimplyCook.com  Now also available in selected Waitrose and Sainsbury's. 
APE SNACKS Coconut Bites Sesame Seed 1 X £1.49 
The clever combination of coconut and natural additions, like cocoa and super seeds, make our bites delicious and totally unique.  Baked to perfection and with a satisfying crunch, they make the perfect snack to help fuel your day ahead or to cure a coconut craving.  
~Available at Sainsbury's, Tesco, Ocado, Whole Foods Market. 
MISTER FREE'D Vegan Tortilla Chips with Beetroot 1 X £1.99 Our chips have strong flavours and a perfect snap with that little extra that keeps you coming back. That's the Mister Free'd way! Beetroot combined with our corn base to provide a beautiful pink chip with plant based goodness. The vegetable flavor is a big appeal to the vegan community.
~Available at Wholefoods Market, As Nature Intended, Planet Organic, WH Smith and local independents.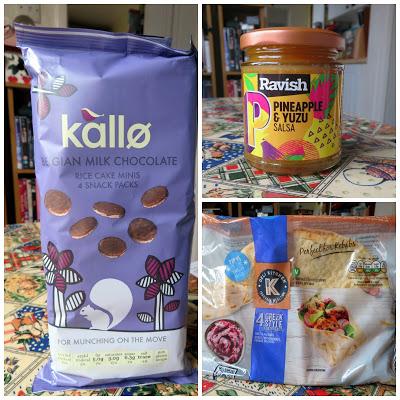 KALLO Belgian Milk Chocolate  Rice Cake Minis 1 X £1.99
Here at Kallo, we don't think being healthy means saying no to all the things you love.  Eating the right way is about loving food, life and chocolate 4pk Milk Chocolate Mini Rice Cakes for munching on the move.104 calories per portion, gluten free, no artificials and vegetarian friendly.~Available at Tesco, Sainsbury's, Waitrose and many others.
RAVISH Pineapple & Yuzu Salsa 1 X £1.50 
Make food boredom a thing of the past with this super tasty Pineapple & Yuzu Salsa. This tangy relish will leave your taste buds feeling absolutely tropical. Dollop some on a burger or on tacos to give your food a serious upgrade!~Available at Tesco and Waitrose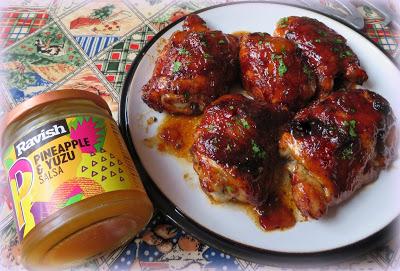 I used some of this to make my Sticky BBQ Chicken Thighs with excellent and very tasty results! 
DELI-KITCHEN Greek Style Flat Breads 1 X £1.35
Get a taste of the sun this summer with Deli Kitchen's NEW Greek Style Flatbreads. Fluffy, filling and easy to fold - ideal for creating appetising homemade kebabs or falafel wraps. Mix up mealtimes, enjoy and be transported to somewhere sunnier through good food this summer.~Available in Sainsbury's.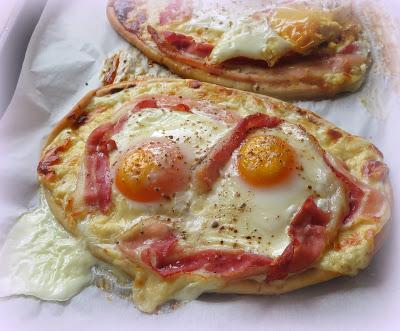 No stranger to these delicious flat breads. They are the basis of my Croque Madame Pizzas.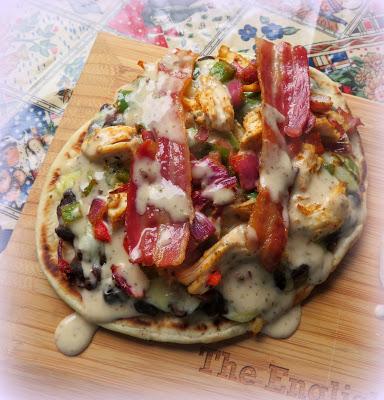 Mexican Chicken Club Flatbreads.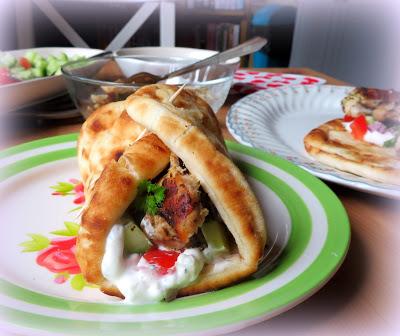 And my Easy Chicken Gyros. 
So you can see that I really d

o

make great use of and enjoy many of these fabulous products I am sent each month to try out. 


Many thanks to Degustabox UK for gifting me this box. I have to say I really look forward to getting my box each month. There are always lots of things in it to enjoy and new products to try out. I highly recommend. You can also tailor the boxes to your own likes and dislikes by filling in your own Taste Profile.  If you like the sound of this box, why not sign up now! I find them to be really good value for money spent and I really enjoy trying out new products that I have not tried before.   Included is also a detailed information card  which tells you all about each product included, and other extras such as recipes, etc.   


Follow them on Facebook 
Follow them on Twitter    So, that was the July Degustabox - a nice selection of products as always. We loved it. The price of each Degustabox is £12.99 (including delivery). To order your box, visit www.degustabox.com 
Use the code 2ROE0 to get £5 off your first Degustabox, free delivery – enjoy!     

I was gifted with the box free of charge, however any and all opinions are my own.