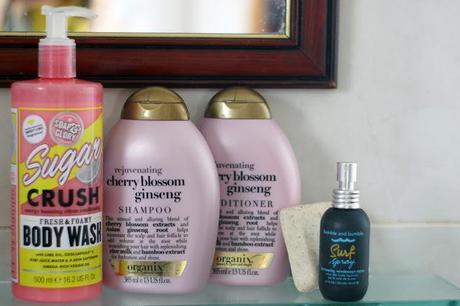 L-R: Soap and Glory 'Sugar Crush' body wash, Organix 'cherry blossom and ginseng shampoo & conditioner, 
LUSH 'Buffy' body butter bar, Bumble and Bumble Surf Spray.
How is it August already?! I can't believe we're fully into the second half of the year, next thing you know it'll be dark nights again. It's now officially my 21st birthday next month and it's my boyfriend's birthday at the end of this month. I can't wait to give him his presents, well, when I finish buying them. Anyway, before I ramble on too much about presents and give anything away...
In July I found myself favouring a 'less is more' approach when it comes to makeup and indeed, my hair. I've been leaving it to dry naturally for a while now. It saves me having to use unnecessary heat from the hairdryer/straighteners and I can just leave it to do its own wavy messy...thing. I've been using the Bumble and Bumble Surf Spray just to mess it up a little more and try to embrace the 'beachy' look. This is the little one I got in my Selfridges Beauty Box but I am hoping I'll get a full size one for my birthday.
Sugar Crush is my go-to body wash, unless I have a bar of FUN from LUSH handy. It smells really sweet and if it was edible, I'd want to try it. Even Andy commented on how nice I smelled the other day when I'd used it. I actually bought this as part of a present for my Mam's birthday earlier in the year and when it found its way into the bathroom, I had to use it. She doesn't seem to mind though and the big bottle will last ages!
The Organix 'cherry blossom and ginseng' shampoo & conditioner appeared in the bathroom one day (I'm guessing they were on offer at some point) and I was intrigued by the pink bottle/ gold lid and the mention of cherry. I used to be a fan of that L'Oreal kids cherry shampoo when I was younger. Y'know the one with the face on the bottle? This doesn't smell exactly like it, but it smells very good and leaves my hair really soft. Win win!
I'd never used a body butter bar from LUSH before until I was given 'Buffy'. There was the one time I thought I had one, but it turned out I'd just covered myself in soap (well done Tasha). They're really easy to use and leave my skin feeling so soft. At the end of a shower, I rub this on my arms and legs and leave it for a minute or two before rinsing off and feeling so soft and smooth! It smells really good too, like oats/almonds and just really lovely. I've used it over half a dozen times and there's still a good amount left.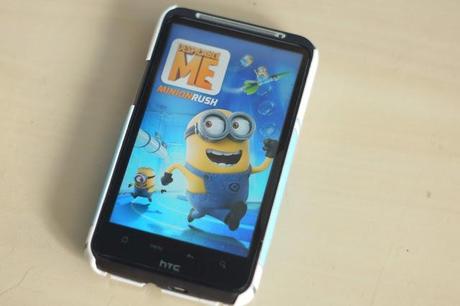 This is a strange one, perhaps. Minion Rush has taken over from Candy Crush and I find myself playing this quite regularly. That's a little sad isn't it? The minions are just so cute though! I've actually got my friend Rachel to thank for telling me about this one day at work and I got home and downloaded it once I'd connected to the WiFi. 
What's been your favorite product this month?
You can follow me on 
Bloglovin
 | 
Twitter
 |
 Facebook
 |
 Instagram