First visit? Glad you're here! I hope you'll take a second to stop by my Facebook page and subscribe for updates so we can stay connected!

Follow
I have no clue how the end of July is here already, but I'm pretty excited because Words I Wheel By is turning one year old on August 12th! While I gear up for the excitement of my very first blogiversary, here are some of the best reads on disability that I discovered over the past month. As usual, the list might be just a teeny bit long, because I have trouble narrowing things down. I highly suggest pinning or bookmarking the round-up so you can come back to it whenever you have a few spare moments. Let me know what interested you the most, and if you think I missed anything!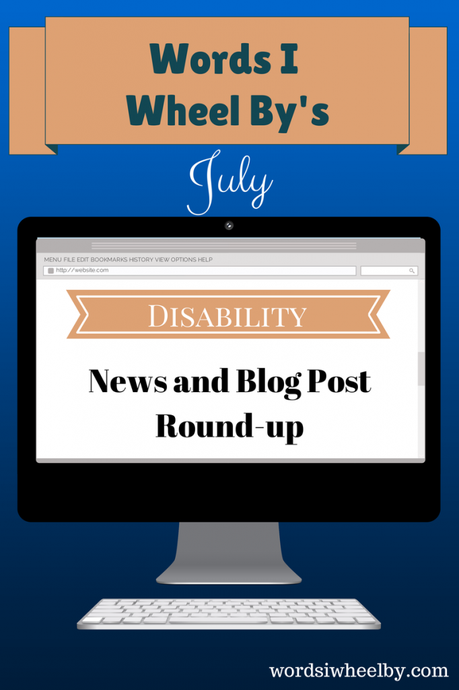 Disability News
Powerchairs: A "moving" story – These toddler-sized power chairs are really cool, and the story behind them is equally wonderful.
'We're all different': JCPenney shows unique mannequins in New York storefront – Slowly but surely, there's a movement to include the disability community in mainstream fashion. I'm glad JCPenney is behind it.
Oldest Known Case Of Down Syndrome Offers Insights – Apparently, a skeleton has been discovered of a person with the oldest case on record of down syndrome. The conclusions from the finding might just surprise you!
Utah mom's plea: Let 12-year-old daughter into first grade – This article poses something interesting to consider: should a disabled child be placed in a school setting based on age or ability level?
Using Cardboard to Bring Disabled Children Out of the Exile of Wrong Furniture – What a creative and much-needed use of cardboard to make accessible furniture!
Disability Blog Posts
A leak in the system: when a little girl felt sorry for my son – Mary Evelyn's deeply honest take on what it's like when people express pity towards disability is absolutely worth the read.
UNTITLED – I'm unsure if the poem is called "untitled" or it's simply untitled, but regardless, this poem is a beautiful take on the pressures of "normalcy." It's written by Jennifer Bartlett, who edited one of my favorite poetry collections on disability.
No more Mr Nice Guy: When disabled people get nasty – Laurence Clark is a hilarious comedian who hits the nail on the head with this post about why people trying to be "nice" to people with a visible disability can be frustrating.
Compliments 101 – I can't tell you how many times I've gotten comments on my general existence that are meant to be compliments, but I perceive them differently. This is a great explanation as to why, thanks to one of my favorite advocates, Cheryl Green.
The Doctor Was Right About Me: Why We Need To Stop Shutting Those Who Do Not "Defy Medical Odds" Out – A great piece on why disabled people who don't "defy the odds" are no less important than any other human.
The A-B-C's – One of my lovely friends started her own blog, and this post she wrote on America and social justice is quite succinct and powerful.
Guest blog post: The ADA Is Not Enough by Stephanie Woodward – This is an incredibly poignant take by an advocate I really respect on why we need to go further in the disability rights movement.
Hope you found some wonderful reads here!
Like what you read? Subscribe for weekly updates and be sure to confirm your e-mail!