It's that time again! I really enjoy doing these posts - I think a big part of it is because I get a buzz out of throwing an empty bottle in the bin, knowing I have used it - bizarre really because to many, that would be a sign that they're due to spend money again to replace it, which obviously for some, isn't a pleasant thought. Maybe this is a sign that I have a stock that is too big for me to handle, so finishing a product is a good feeling :-) I have realised over the last few months that I'm beginning to "grow out" of being interested in beauty, and craving to have new products. My love for nail polish is still there though! But I love to spend my money on things that I can actually see; days out, holidays, nice meals. Sometimes, how I look at it is, no one is going to know if you are wearing a £20 eyeshadow or a £5 one. Yes it may be a nice shade, or apply differently to other eyeshadows, but I'm sure you can find one at a fraction of the price. Back to the point (!) - I'm actually enjoying decreasing my make-up/beauty/hair collection, because once I reduce it, I don't think I'd ever get back to the quantity I have now, but I'm ok with that because I'm simply not as interested in it anymore. Plus, it's giving me more space in my room!
Anyway, without further ado, here's what I managed to finish in July!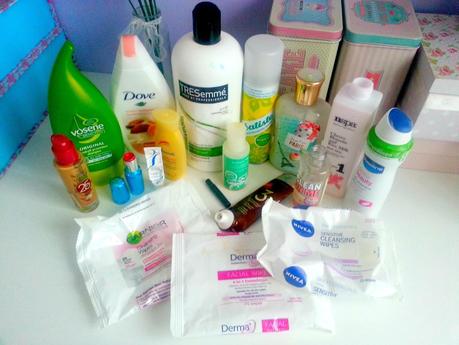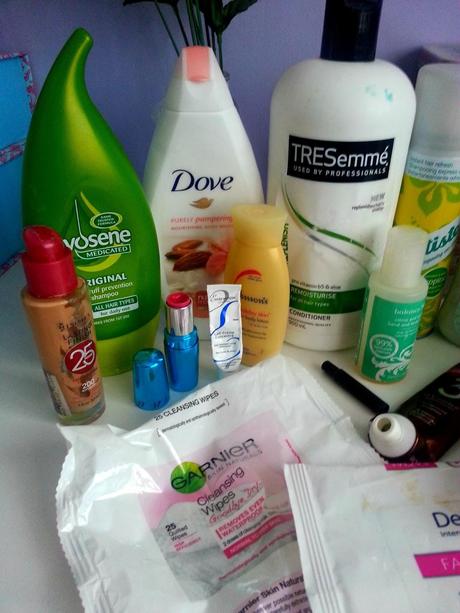 From L-R (Back)
Rimmel Lasting Finish Foundation - I think this is my longest-running foundation. I've been using this for at least 2 years (ok, not this exact bottle, obvs!). I've done a review on it *****here***** so say no more.
Vosene Medicated Shampoo - Ok, sorry in advance if this is TMI, but lets face it, we're all humans with our human problems! - I occasionally suffer with a flaky scalp, I haven't quite figured out why or if there is a trigger but I remember at the beginning of this month I was suffering with just a random patch at the front of my hair - no where else, just there - Enough was enough and I went and bought some Vosene. This reminds me of when I was a kid, so my mom must have bought it a few times. This stuff was amazing! It cleared it up completely within 2 washes. I've actually just discovered on the bottle it states 'works from 1st use' - I can pretty much vouch for that - My scalp flakiness had reduced on the 1st wash and vanished by the 2nd.  It has a strong medicated smell to it, which I know can be unpleasant for some people, but I could handle it. I'd recommend this if you suffer with your scalp before splashing out on the likes of T-Gel or more expensive options.
17 Mirror Shine Lipstick 'Flirtini' - I have had this for so long and finally finished it. I remember purchasing this a long time ago and getting home and being disappointed in just how sheer it was. It could pass as a lipgloss but without the stickiness! However I soon realised that it was buildable and I soon fell in love. The consistency was creamy but light, and the fact that the color was buildable gave you the ability to be adaptable, depending on the time of day - A sheer look for daytime, a more powerful vibrant look for night, all in the same lipstick! I lost it for sometime in some random handbag, and re-discovered it a couple of months ago. I have no clue if they still sell this mirror-shine line as it really is that old!
Lait-Creme Concentre - I received this in a recent Birchbox. The tiny 5ml tube wasn't enough for me to make a solid opinion on this. It appeared light and non-greasy, which is always a bonus. This has a £13 pricetag for 30ml which is affordable. It has been known to be used as a primer, moisturizer and make-up remover by make-up artists, although I have only just discovered that so can't comment if using it for those methods is any good!
Johnson's Holiday Skin Lightglow Body Lotion - I received this in a beauty box a few months ago. If you are a regular reader of my blog you will know that I am attempting to get my body cream stash reduced. This was the first in the firing line! I remember after using this a few days I noticed my arms were beginning to build a tan, and I couldn't understand why.. I hadn't been in the sun! It took me about a week to realize it was this body lotion that had a hint of self-tan in! Doh!
I enjoyed using this and the healthy glow that it gave, although I wasn't too keen on the smell!
Dove Almond Cream body wash - I love love love body creams (as opposed to body gels/washes etc). There's something about body creams that is so much more luxurious! The smell was delightful, nothing too fruity or sweet, just a pleasant smell that I really can't describe, almost relaxing... Scrummy. Dove products never fail me.
Tresemme Remoisture conditioner - I'll be honest, I only purchased this because it was on offer. This is one of those conditioners that on first use, it has amazing results. It leaves your hair feel super silky and soft. Then its almost as if your hair becomes used to it and adapts to the ingredients, and no longer gives the once dramatic results.
Balance Me - Citrus Spice hand & body wash - Again, another addition from a beauty box. I used this for a shower gel and with shower/bath products I'm all about the smell. Unfortunately this didn't float my boat - it was very spicy in scent and although it felt refreshing whilst using, it's not something I'd reach for in the shops.
Garnier Cleansing Wipes - I like these wipes - they're not my fave but I do enjoy using them. There's just the right amount of moisture on each towel and the size and thickness of each wipe is perfect as well. I always get ones that are able to be used on the eyes (for nights when I'm too tired!), so these tick that box as well.
Rimmel Kohl Eyeliner 'Black' - I've always found Rimmel eyeliners to be pretty effective. I apply eyeliner to my waterline, and some annoyingly refuse to apply in this area, however this kohl pencil has no trouble. The lasting power is not fantastic, but this is different for each person and their eyes. I don't expect miracles for £3.99 though!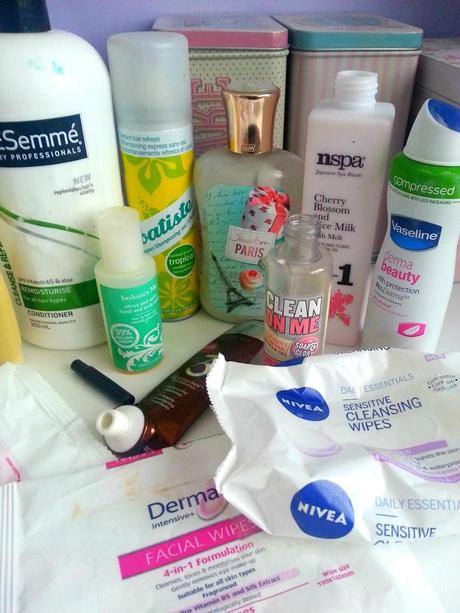 Clairol ColourSeal Conditioner - When you see one of these in my empties, you know what I've done! Dyed my hair! These conditioners are fab, but like the Tresemme, once your hair gets "used" to it, it becomes prone and stops working its magic.
Derma Facial Wipes - I can't remember where I buy these from - Possibly B&M - Either way, I hate spending a lot on face wipes that are just going to get thrown in the bin after each use. Unfortunately face wipe prices are increasing and I struggle to find any under the £2 mark now, so occasionally when I'm in B&M and have the chance to grab some cheaper ones, I will do. These again can remove eye make-up. They have never caused my skin any problems so I will continue to use!
Nivea Cleansing Wipes - I was hugely disappointed in these. They were extremely dry which made me struggle to remove my make-up. This is the first time I have had this issue with them so maybe it was just a bad batch? Either that or they've reduced /changed their ingredients; either way, I'm not a happy bunny!
Batiste Tropical Dry Shampoo - I really don't need to do a review on this because I'm sure every girl and her handbag has had the pleasure of trying this at some point. It's a savior for those lazy days - it lifts, volumises and gives the hair that much needed boost it needed. It smells gorgeous. I have actually discovered an even better dry shampoo which I will review soon!
Bath & Body Works 'Sweet on Paris' body lotion - This was purchased in either Vegas or Florida (I can't remember which) but OMG - Can I just say this has got to be the worlds BEST smelling lotion... ever. It actually makes me want to eat it. Its a sweet concoction of so many things I can't put into words. The light blue lotion is neither thin or thick on consistency, therefore making it a good all-year-round lotion. I have one bottle left and I'm scared of what I'm going to do once that has gone - maybe that means another trip to Florida?! ;-) The packaging is so cute as well, don't you think?!
Soap & Glory Clean on Me Shower Gel - I don't often buy things from S&G, this product was so old that I forced myself to use it. I know this brand is well loved, however this particular product I didn't rate. The scent was nothing outstanding, as was the consistency and lather.
Nspa Cherry Blossom & Rice Milk Bath Melt - This title sounds so yummy, luxurious but strange - How often do you see 'rice' in your bath products?! Unfortunately this wasn't as appealing as it sounds. The scent was mediocre. The amount of bubbles it created in the bath were average, a pretty 'normal' bubble bath if you ask me.
Vaseline 48hr protection - What a pain of a deodorant! This was one of those were you sprayed, moved your arm to grab your handbag to see a handful of snow floating in the air. This doesn't like staying put under your arm and has a tendency to fall everywhere straight away. I tried at different lengths from my arm and it proceeded to do the same. Not good. It does offer good protection though!
So that's it for July! As you know I tend to do these empties every other month, however in the month of August I will be posting every day on Instagram instead. I have quite a lot planned so come and follow me @kateld85 to see what I'm getting up to!