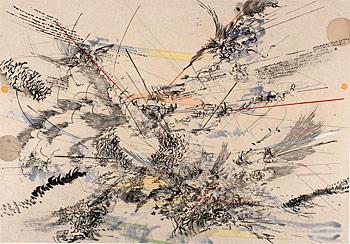 Julie Mehretu's Local Calm
New York-based artist, Julie Mehretu, was the third and final speaker in this year's Clarice Smith Distinguished Lectures in American Art. Her work uses layers of architectural images--stadiums, airports, ruins both contemporary and ancient--and repurposes them with an eye toward reconceiving and reconceptualizing. Often, through erasure, she finds unexpected meaning and significance. Her palette, running from the gray to the colorful, is grounded in her exceptional handwork. The canvas becomes a palimpsest, with layer after layer of meaning finely wrought, even those that have joined the ghostly realm of the near-visible.
If you weren't able to attend the lecture, take a look at our webcast of her presentation.