About a week before St. Patricks day Julep offered a "mystery package" for 19.99, stating it contained $60-$200 dollars worth of product. I am a sucker for 'mystery bags', so I bought one, I had missed out on the Valentines day one and wasn't about to miss out on this one too.
It came in a green box, of course, and was filled with green crinkle cut packing paper. The products were all in a Julep makeup bag which I thought was awesome, there's pockets inside that fit the julep polishes! They through in some chocolate too!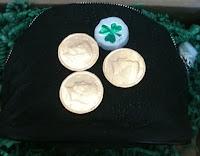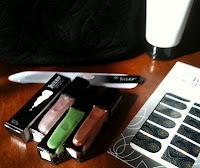 Sorry about the lighting,
couldn't find my good camera!
Here's what was in my box:
Full size hand cream with 30 SPF
Glass Nail File
Cuticle oil
Nail Appliques in Peacock
3 Polishes, Maya, Emma, and Sofia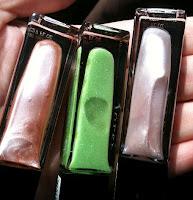 From left to right:
Maya, Sofia, Emma
Maya is a very light pearlescent peach/pink color.
Sofia is a beautiful bright green with blue glitter.
Emma is a shimmery soft pink.
I am REALLY happy with my mystery box! I hope they do one for Easter, I will definitely snatch one (or two) up! I am such a huge fan of Julep, they always live up to my expectations. You can STILL get your first Julep box for just 1 cent! Click here, fill out the style quiz, click Sign Me Up, add the box to your bag and enter the code "color2012"! Enjoy! 
P.S. Don't forget to check out and enter my giveaway! Click here for details!