I was so excited after my St. Patricks Day Mystery Box I couldn't wait until they offered another mystery box, so when they announced the Spring Mystery Boxes I had to get two ;)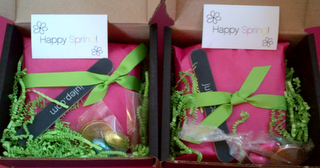 Always cute packaging!
Here's what was inside my first box: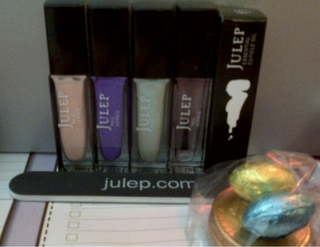 Kelly, Anne, Melissa, Basecoat, Cuticle Oil
Kelly is a great blush color, perfect for manicures. Anne is a really pretty purple, unfortunately I already had her. Melissa is very shimmery with what looks like green undertones. I also got a base coat which I was REALLY happy about, I needed a new one, and finally a cuticle oil, which looks to be standard in mystery boxes.
Here's the second box: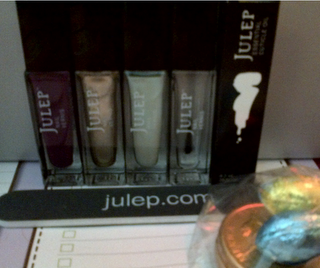 Gayle, Sienna, Melissa, Fast Dry Topcoat, Cuticle Oil
Gayle is my favorite polish out of both boxes, she a gorgeous deep purple. Sienna is a very sparkly gold polish, and it's pretty opaque. Melissa, again. Fast dry topcoat, super happy with this because I'm not a fan of seche vite, and another cuticle oil.
I am really happy with my boxes (even if I didn't get a giftcard ;)) I can't wait until they offer another mystery box! The doubles will be used in a future giveaway along with some other goodies so make sure you like my facebook and follow me on twitter for updates!
You can STILL join Julep and get your first box for just 1 CENT! Click Here take the short quiz, and add your box to your bag and use the code 'PENNY' at checkout! Mani/Pedi kit for just 1cent :)