I picked the Boho Glam for the month of May, mostly because of the 'Metallic' polish offered in it. It sounded pretty cool!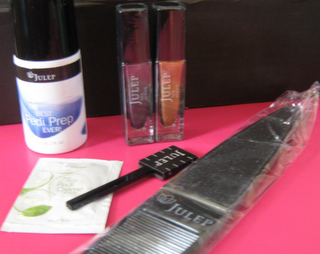 In my box I received:
Julep Foot File - Has 4 different sides.
The Best Pedi Prep Ever! - roll on calluses, leave for 2-4 minutes and the file the rough spots.
Kylie Polish - Magnetic violet colored polish.
Sheryl - Butterscother/bronze colored polish.
Magnet - For use with Kylie.
Sample of 'The Best Pedi Creme Ever!'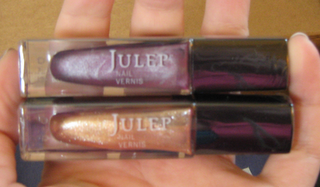 I'm happy with my box once again... By now do I need to keep raving about how much I love Julep? I am never disappointed!
You can STILL join Julep and get your first box for just 1 CENT! 
Click Here
 take the short quiz, and add your box to your bag and use the code '
SHAREONMAY
' at checkout! Mani/Pedi kit for just 1cent :)