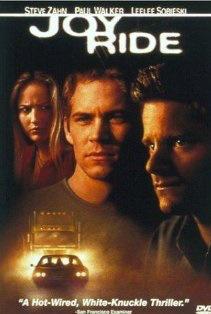 Director: John Dahl
Writer: Clay Tarver, J.J. Abrams (Screenplay)
Starring: Steve Zahn, Paul Walker, Leelee Sobieski, Jessica Bowman, Stuart Stone, Basil Wallace, Brian Leckner
Plot: Three young people on a road trip from Colorado to New Jersey talk to a trucker on their CB radio, then must escape when he turns out to be a psychotic killer.
There may be spoilers the rest of the review
Verdict: Forgotten Suspenseful Thriller
Story: Joy Ride starts by introducing college students Lewis (Walker) and Venna (Sobieski) deciding to take a road trip home for the holiday giving them a chance to spend time together as they live apart, Lewis buys a car for the trip and heads up to pick Venna up. Lewis' brother Fuller (Zahn) is in jail thanks to his drinking problems and after five years Lewis picks him on to brings him back home on the road trip. Fuller instalments a CB radio the brothers have fun with the truckers and one in particular Rusty Nail, playing a prank pretending to be a woman.
After losing radio contact with Rusty Nail they believe the prank is over but as they try to settle for the night Fuller crosses paths with a rude racist man and when Rusty nail gets back in contact they arrange a meeting between the man and Rusty Nail. When the prank goes wrong the man is left in a coma with his jaw ripped off leaving the brothers being kicked out of Wyoming. The brothers thinking they will get away with it decide continue their journey but when Rusty Nail finds out who they are he chases them down leading to a car chase.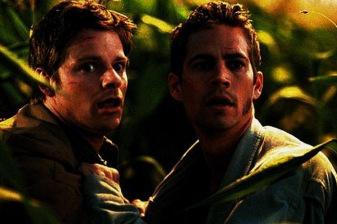 Having got through the ordeal with Rusty Nail the brothers finally pick up Venna and finish off their trip home. When Rusty Nail continues to follow them he becomes interested in them more because of Venna's appearance on the scene. The three end up having to go through a series of tasks for Rusty Nail in order to save a friend which will push them all to the edge.
Joy Ride is a very simple idea for a story it never tries to complicate anything and keeps the attention fully on the brothers and Rusty Nail. By not letting us truly see Rusty Nail is also a big boost as we end up having to imagine what it would be like to be hunted down by an unknown person. The story never tries to throw any twists at us but manages to keep us guessing from start to finish. I would say that with today's technology this film wouldn't work to the same level because people would be using cell phones to call for help and even SAT NAVS to track down people a lot easier than Rusty does. In all honesty this is one of the best thrillers of the time that seems to have been forgotten especially with its sequels turning to the horror genre for more scares but less tension. (8/10)
Actor Review
Steve Zahn: Fuller Thomas criminal who joins his little brother on a cross country trip, it is his idea to play the prank but he is the one who ends up having to take responsibility for his action. Steve gives a good performance as the so called older wiser brother. (7/10)
Paul Walker: Lewis Thomas college student who buys a car to travel cross country to pick up his girl mate who he hopes to have more with but after picking up his brother, he ends up getting caught up in the middle of a prank gone wrong. Paul gives a good performance in an early role and still involving his love of driving. (7/10)
Leelee Sobieski: Venna old school friend of the brothers who ends up getting pulled into the middle of the game the truck driver has been having with the brothers. Leelee ends up giving a solid supporting performance but never gets enough screen time. (6/10)
Support Cast: Joy Ride only has a supporting cast of people they meet along the way with not many making any real impact in the film but each could be who Rusty Nail really is.
Director Review: John Dahl – John gives us one of the good suspense thrillers on the year here. (7/10)
Mystery: Joy Ride creates a mystery about who the killer is because the list could be any truck driver. (8/10)
Thriller: Joy Ride really does keep you guessing from start to finish just wait to see what will happen next. (8/10)
Settings: Joy Ride keeps everything on the road or in and around rest stops making it feel like our characters are really being hunted down over long distances. (7/10)
Suggestion: Joy Ride is one for all the thriller fans to enjoy, I think it does manage to reach edge of your seat level. (Thriller Fans Watch)
Best Part: The shock about what happens to the man next door.
Worst Part: The Police who offer no help.
Believability: No (0/10)
Chances of Tears: No (0/10)
Chances of Sequel: Has two sequels.
Post Credits Scene: No
Similar Too: Dual
Oscar Chances: No
Box Office: $36.5 Million
Budget: $23 Million
Runtime: 1 Hour 37 Minutes
Tagline: Don't play with strangers
Trivia: Was renamed 'Road Kill' in the UK, since taking a 'Joy Ride' is not the pleasant journey it is in the states, rather the name for when youths steal cars and race each other or the cops and eventually total and dump the car.
Overall: Joy Ride is one of the better thrillers in recent years it makes you want to know what will happen next but it also doesn't resort to just going for blood and gore like many others do.
Rating