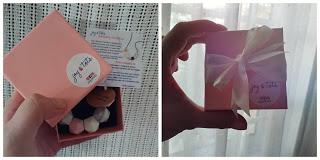 Most items are strictly either for Mummy or for baby. So it was awesome that we could find something that we could share. For you curious folks out there, this is a sensory necklace. Basically, Mummy wears it and baby can plays with it and bites on it. It is particularly good when baby grows to a curious age and just wanna grab everything around it.
The design from Joy o Tots takes after the chic beads look. However, material-wise, it is made of the baby's teether materials. Similarly, they are BPA-free, non-toxic and is approved by PDA/SGS. At the end of the day, you will have a nice accessory with baby toothmarks immortalised on it. Hehe.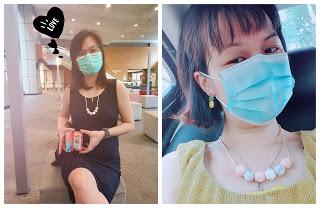 Before everyone starts exclaiming "pink pink, baby girl", baby is still a boy! Actually pink is one of my favorite colours. It is just that I don't usually pull off an all pink dress well. My wardrobe is now flooded with blue and so is baby's. So I thought some feminine touch might be nice. And I think I totally pulled it off this time round.
We went for baby pink with some touch of marble textured design to give it a dainty lux vibe. Whether my hair was long or short, whether the dress was solid or shiny, I think the necklace went well with both. To be honest, sometimes I fiddle with the necklace and feel a bit more motherly. To keep it clean from my sweat, I wash it with water after use and air-dry it. I hope I don't stain the white thread before baby arrives. After all, this piece is for us!