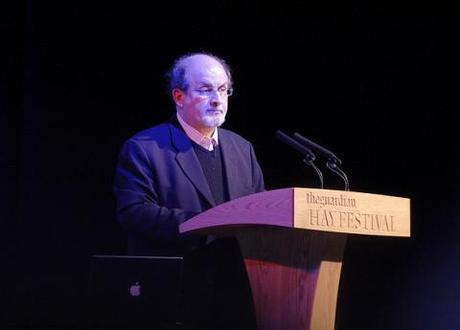 Salman Rushdie's new memoir is out now. Photocredit: futureshape
The background
Sir Salman Rushdie's long awaited memoir, Joseph Anton, takes its name from two writers – Conrad and Chekhov – and is the alias he used when he was in hiding after an imam put a fatwa on him for publication of his novel, The Satanic Verses. It details the time of his fugitive life, beginning on 14th February 1989. The fatwa saw the death of Shapour Bakhtiar, the Shah's prime minister; that of Rushdie's Japanese translator; it also caused his Norwegian publisher to be shot three times in the back. The bounty on Rushdie's life is currently £2 million. Critics are divided over the book; most agree that it is, in parts, fascinating, but many differ over whether the book is as essential as it might seem.
An essential book
It's written "in the third person," said Nicholas Shakespeare in The Telegraph, which "has the effect of distancing its author from its subject." Rushdie is "an articulate, intelligent and sympathetic man," and has had to watch "an avalanche of dung being spread over his name and work." This book aims "to hose off the crap and retrieve his reputation and character." The memoir, because of its fugitive nature, often "resembles a road movie." More "affecting" is how he grapples "with his childhood" – "the only son of a nuclear gossip and an alcoholic, godless father who died bankrupt." His life on the road was hellish – his wife left him and betrayed him in print. It's massively to his "credit that he can be candid and searing about his weaknesses and destructive appetites." More importantly, what Rushdie does here is "to keep a drowsy world awake," constantly reminding us of the "barbaric" response to his fiction. This book is "awfully long, solipsistic and of necessity self-serving," but it's "also funny, painfully moving and absolutely necessary to read."
A clear portrait of his ordeal, but flawed
Pankaj Mishra in The Guardian thought Rushdie's decision to write in the third person was "bizarre." But the book is "a clear and shaming picture of his ordeal," making the reader fully on his side. His early years are "appealingly" evoked. However, it is "too long, over-dependent on [his] journals, and unquickened by hindsight, or its prose." It is pervaded by a "peevish righteousness," and the grotesque irony that for Rushdie, freedom "should become synonymous" with wealth – private planes, motorcades and so on. And as a whole, Rushdie "continues to reveal an unwillingness or inability to grasp" the consequences of politics, history and literature.
Battles still to be fought
Emily Donaldson on The Star said that the book "probably won't convince anyone that Rushdie isn't arrogant," but that "when it comes to free speech, personality is necessarily beside the point." The battle he was "forced to wage" still hasn't been won.