Playbill.com describes it as "a good crash-and-burn story of an audition gone horribly wrong," but with a happy conclusion.
Broadway hopeful Jose Llana, then an 18-year-old Voice student at the Manhattan School of Music, lines up to audition for the 1996 Broadway revival of Rodgers and Hammerstein's The King and I. When the next guy is called and nobody steps forward, Llana raises his hand and auditions as the (absent) guy. He sings I Have Dreamed and apparently impresses the one-man panel, who begins scrutinizing the CV in front of him more carefully...
How the young Fil-Am actor gets out of the fix and lands the part of Lun Tha, the Burmese scholar-emissary whose forbidden love for the Siamese king's young concubine, Tuptim, occasions two of Broadway's most ravishing melodies (We Kiss in a Shadow and I Have Dreamed) is revisited in the video below. Watch until the end--what Llana unleashes after the chitchat (with writer-actor-Broadway authority Seth Rudetsky) is gorgeous.
More Filipino connections in that King and I revival: The King was played by another Fil-Am actor, Lou Diamond Phillips, who was praised for the not inconsiderable feat of ushering the part out of Yul Brynner's formidable shadow. (Donna Murphy played Anna Leonowens, the English governess hired to educate the Siamese king's children.) A third Fil-Am was in the ensemble: Paolo Montalban, who understudied Llana's Lun Tha, and in a few years would also break through as Prince Charming to Brandy's Cinderella in the TV musical production produced and topbilled by Whitney Houston, who played the Fairy Godmother.
When Phillips visited Manila in 2003, along with Tia Carrere, Inquirer Lifestyle sat them down to a Playtime session and I got to ask Phillips about The King and I and his two Fil-Am co-actors. He remembered Llana as a particularly nervous, sweaty newbie, and Montalban as the chatty guy. Phillips would earn a nomination as Best Actor in a Musical in the 1996 Tony Awards, while the show itself won Best Musical Revival and Best Musical Actress (Donna Murphy), as well as trophies for scenery, costumes and lighting.
When the revival began a London run in 2001, Elaine Paige played Anna, Jason Scott Lee was the King and, this time, Tuptim was played by another Filipino: Aura Deva, a Miss Saigon alumna. Worth noting: Lea Salonga herself had her debut on stage as one of the royal children in Repertory Philippines' 1977 production of this musical! And in 1992, she'd sing Tuptim herself, in a studio cast recording that had Julie Andrews as Anna, Ben Kingsley as the King and Peabo Bryson as Lun Tha.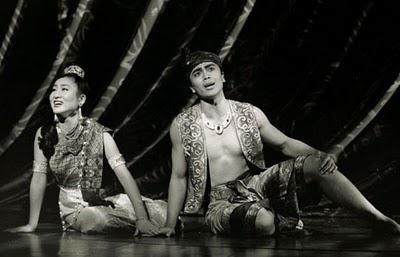 Back to LLana: While critical of the show as a whole, the NYTimes theater critic Vincent Canby only had praise for the Fil-Am actor and his Tuptim, the Korean-American soprano Joohee Choi--"Both singers have beautifully trained voices, well suited to the demands of what should be their heartbreaking duets," he wrote.
Wondering how they sound together? Wonder no more. Here, from the 1996 original cast recording of The King and I:

Podcast Powered By Podbean