Received by mailing list from Jon Gersh:
WUMB 91.9fm Trad Folk Sun 9pm - Midnight..

. now old-time and Vintage Country and bluegrass!

Traditional Folk on WUMB 91.9FM has a new format!

Jon Gersh is now hosting this show on behalf of Sandy Sheehan. 

The show runs from 9PM Sundays til Midnite.  I'm bringing a big new energy focused on blurring the lines between blues, bluegrass, old-time country, country and western, honky tonk, and western swing.  All vintage, all excellent!

Check it out!  If you can't hear it on the radio, try http://www.wumb.org and listen on your computer!

Another new feature:  The Worst Country Song... each Sunday around 10PM I'll play a really bizarre country song!  Email me your votes for your favorite "worst" country song!

Please spread the word!  Thanks, Jon G....
At the time of this writing the
WUMB program schedule
lists the program as 
Traditional Folk, hosted by 
Sandy Sheehan.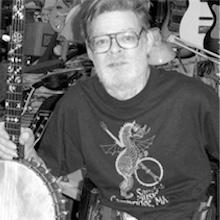 ANNOUNCER:
Sandy Sheehan
SHOW:
Traditional Folk
TIME:
Sunday 9pm-Midnight
Contact
Sandy Sheehan started doing the 
Traditional Folk
 show in the fall of 1986. One of his goals is to expose listeners to artists and music they wouldn't hear on other programs.The music on the program usually falls into the following genres: old-time, bluegrass, Celtic, blues, Cajun, cowboy, and anything else that is interesting and traditional. The program usually consists of a set of three or four songs or tunes of one kind of music, and then changes to a different kind.A lot of good traditional LPs are being reissued on CD. But Sandy still plays LPs and cassettes as well since some of the greats were never reissued. A lot of good traditional music is being done by contemporary artists as well. Sandy draws on all of these resources for his show.A traditionally-oriented community calendar is also heard on 
Traditional Folk
.Folk music has interested Sandy since the early '60s. At that time he met some musicians who played traditional music including old-time, Celtic, and bluegrass. Other musicians later introduced him to blues and Cajun music.Sandy learned to play a little banjo, but was always more of a listener. He spent the '60s getting together with friends to play old-time music and go to contra dances around Boston and New Hampshire. He also attended many area festivals and concerts.In 1970 Sandy started Sandy's Music to buy, sell, and repair instruments and sell recordings. The store is still on Massachusetts Ave. in Cambridge and is one of the area's folk institutions.Sandy often packs up the store stock and sets up a temporary shop at a some of the summer festivals and concerts throughout the year. Sandy also organize old-time music events. Every Monday night there's a jam session at Sandy's Music, and several times a year Sandy invites musician friends to Johnny D's in Davis Square, Somerville, for an old-time music night.The WUMB website's "announcers" area does not yet contain a profile for Jon.
I wish Jon good luck, and Sandy a full recovery.
Related 
Sandy Sheehan Laid Up, Sandy's Music Closing
, 1/12/13.