Had  a power outtage the other day then computer issues so have been behind in my blog posts this week.
Since I was told that Cici had a bit of arthritis, I have tried different supplements for her. When given the opportunity to try these Blue Label Glucosamine and Chondroitin treats, thought it would be a good idea. Cici LOVES the  soft chewable INhancer Hip & Joint Supplements.  She thinks that they are cookies and scarfs them up which is nice since they are supplements that are good for her.  Just use the nuggets as you would regular treats. No muss, no fuss, no disguising or having to put in a hot dog or a piece of cheese.
More info:
A daily nutritional supplement to provide dogs with the live enzymes, essential fatty acids, antioxidants, minerals and vitamins that they require to enhance their immune system and to help keep their coat and skin in top condition. INhancer™ joint protection supplement is for high activity and older dogs: A daily nutritional supplement containing Glucosamine and Chondroitin from Shark which helps to maintain the elasticity of healthy joints in high activity dogs and helps to relieve the pain and rebuild the joints of older arthritic dogs.  For dogs with food allergies and sensitive stomachs. No corn and wheat.   100% human grade chondroitin and glucosamine. INhancer™ comes in the form of a soft nugget that dogs take as a treat. Chicken Flavor.  One nugget daily for each 10 pounds of the dog's weight.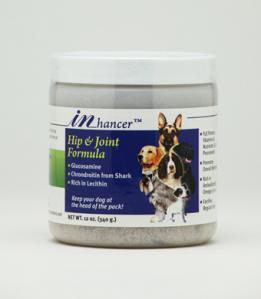 Ingredients:
Lecithin, Rice Bran, Oatmeal, Flaxseed, White Rice Flour, Chicken, Cod Liver Oil, Powdered Cane Molasses, Dried Eggs, Glycerin, Carrot, Celery, Beet, Parsley, Lettuce, Watercress, Spinach, Wheat Germ, Calcium Carbonate. Vitamin Supplements: Riboflavin, A, D3, E, B1, B12.
·  
Vitamin A
, an antioxidant, is a prime necessity for the immune system and overall pet health.  
·  
Vitamin E 
is a powerful antioxidant, which plays an essential role in pet health and protection from damage of all cells.
·  
Vitamin B5 
 is necessary to produce coenzyme-A and helps dogs to metabolize proteins,carbohydrates and fats.
·  
Vitamin B6 
(Pyridoxine) helps produce antibodies and red blood cells.
·  
Vitamin B12 
is essential for proper functioning of the brain and nervous system.
·  
Calcium 
helps build bones and aids normal blood clotting.
·  
Phosphorous 
is critical for the growth and maintenance of the skeleton.
·  
Choline 
is sourced from lecithin, and helps build cells and nerve tissue.
·  
Folic Acid 
helps produce red blood cells, build antibodies, and helps the growth and division of cells.
·  
Iron 
promotes the utilization of oxygen 
·  
Manganese 
improves the utilization of the B-complex vitamins and vitamin E.
·  
Omega Fatty Acids 
produce healthy cell membranes, contribute to healthy brain and nerve cell development, fortify the immune system and are specifically helpful with skin disorders. 
· 
Selenium 
works in conjunction with Vitamin E to increase antibody production in response to antigens.
IN supplements are never cooked. Through their unique cold process, ALC INovators has found a way to produce supplements that maintain the integrity of their ingredients while also taking the form of a soft nugget that dogs take as a treat.
 http://www.inpetsupplements.com/supplement-dogs.php?cid=4