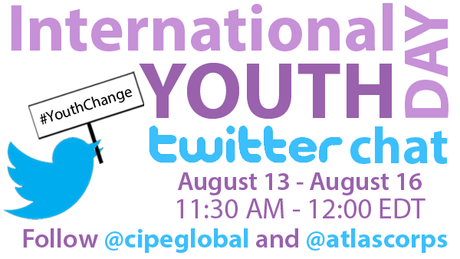 In honor of International Youth Day, CIPE and Atlas Corps invite you to join us for a week of Twitter chats starting August 13, 2012 on the theme of "Building a Better World: Partnering with Youth." We will be bringing together young thinkers, reformers, activists, and entrepreneurs from around the world to discuss how young people can participate in the development of democracy and become effective agents for political and economic change.
To join in the discussion, just follow @cipeglobal and @atlascorps or use the hashtag #YouthChange. You can also follow the chat as it happens here.
The schedule of topics and participants is as follows:
Monday, August 13: Building Democratic Societies
11:30 AM-12:00 PM (EDT)
Seif El Khawanky, who was a youth activist during the 2011 Arab Spring uprising in Egypt, will host a discussion on how young people can participate in democratic reform, featuring winners of last year's Youth Essay Competition. Watch a video of Seif discussing Egypt's ongoing transition.
Tuesday, August 14: Inclusive Growth for the Next Generation
11:30 AM-12:00 PM (EDT)
CIPE's Pakistan office will lead a discussion on the role of youth in ensuring that economic growth and development provide a voice and opportunity for all citizens, with a focus son youth entrepreneurship and the role of new technologies.
Wednesday, August 15: Youth Voices for Sustainable Development
11:30 AM-12:00 PM (EDT)
Esther Agbarakwe (@estherclimate, Nigeria), an Atlas Corps Fellow serving at Population Action International, will discuss her personal involvement and mobilization of youth in sustainable development on an international scale, including participation in The Elders+Youngers Initiative and the Rio+20 conference.
Thursday, August 16: Youth Advocates for Positive Change
11:30 AM-12:00 PM (EDT)