Join me at Beirut International Franchise Forum & Exhibition (BIFEX) 2014 which takes place at the Phoenicia Hotel in Beirut. A two day forum will revolve around the important topics which are chosen for the purpose of imparting knowledge on, and informing the BIFEX 2014 audience about new developments in franchising, corporate achievements, trade promotion, and women in business. I'm happy to be one of the bloggers participating. I will be talking about how bloggers and brands should interact.
Bloggers & Brands: How should they interact? Tuesday, 29 April 2014 from 16:30 to 17:45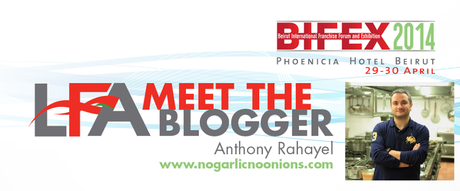 More details about the forum
Economic Diplomacy: The Role of Diplomati

c Missions in Promoting their Countries' Commercial Interests

Game-changers: Thinking Different to Innovate and Grow
Mediation and Arbitration in Franchising
Bloggers & Brands: How should they Interact?
Reviving the High Street
New Trends in the Retail Industry

Forum Speakers
Although they represent varied fields of endeavor, invited speakers have common attributes: They are visionaries and successful practitioners. They can impart knowledge based on their accomplishments and years of experience.
Speakers include Ambassadors, top names in Lebanese, Arab and international business, brand champions, legal experts, as well as bloggers and social media activists.
Peter Fisk, an inspirational and provocative speaker, who is visiting Lebanon for the first time to participate in BIFEX, will help our guests to see the world of business and brands, marketing and innovation, in new ways.