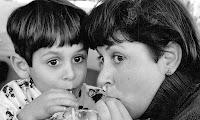 Johnny Rockets 2001
After Nic's first visit to see Santa Claus, with packages in hand (and Nic in a backpack), Dom and I stopped at the Johnny Rockets in Phipps Plaza and ordered classic thick shakes and a plate of fries to nibble on, before continuing the holiday march. At eight months old, the fries were the perfect toddler nosh. Dom offered some of his chocolate milkshake to wash them down and that was the end of the beginning! Since that Christmas season, it has been our tradition to visit Santa, do some last minute shopping and stop at Johnny Rockets for lunch on the weekend before Christmas.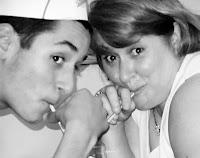 Johnny Rockets 2012
So you can imagine our excitement when we were invited to the preview Party at the newly reopened Johnny Rockets on the third floor of Atlanta's Premiere Shopping Mall – Phipp's Plaza. They join more than 80 specialty and anchor stores, an AMC movie theater, four other award-winning restaurants and the latest attraction; the new Legoland Discovery Center that opened in March 2012. The newly renovated Johnny Rockets, known for its classic diner theme is mere feet from their former location. The space features a 1,123-square-foot restaurant with its retro styling, red-and-white counter seating, brilliant neon lights, counter top jukeboxes, and a sparkling new seating area.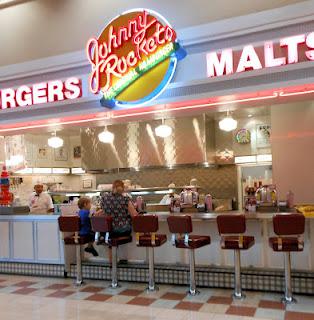 Franchise owner Steve Snyder, who also operates the Underground Atlanta and Georgia Aquarium Johnny Rockets locations, agrees, "With the new Legoland Discovery Center, the timing of our newest restaurant couldn't be better. Parents and children can enjoy our classic American food, timeless music, and family-friendly atmosphere before or after they experience all that the new Lego center has to offer."
Our evening started with a backpack filled with Johnny Rockets gear including a T-shirt, mousepad and coupon for a free meal on a return visit. We were seated in the new dining area with 1950s-style booths reminiscent of Arnold's of Happy Days fame. We almost expected to see Richie Cunningham and his pals Potsie and Ralph Malph enjoying malteds in the next booth.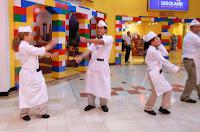 As French fries were served, we were all asked to join in a ketchup-art contest. Nic won another bag of JR goodies with his retro rocket design. While waiting for our food orders to be served, we were all challenged to a Johnny Rockets Trivia quiz and enjoyed the watching the wait staff  twist to the "Hippy Hippy Shake."
Then what we had been waiting for… Sonny ordered the "manly" bacon-cheese fries and a #12, Nic ordered the chili-cheese fries and Smoke House Double, and I had onions rings and a Philly Cheesesteak sandwich.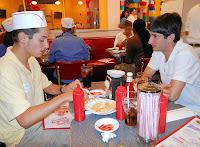 Not only was the food just as delicious as we remembered, but quite plentiful. Sonny and I both needed go-boxes. We were offered samples of new milkshake flavors as we said our farewells. Nic and Sonny were already making plans to meet friends for burgers over the summer break. "I definitely see some milkshakes in my near future" added Sonny.
Now, for all those anxious to check out the new Johnny Rockets, make plans to head over to the Grand Reopening Celebration on Saturday, May 19th! Planned activities include menu sampling, prize giveaways, photo opportunities, and a host of other fun, interactive events designed to maximize guest engagement and officially welcome Johnny Rockets back to the Phipps Plaza shopping community.
Schedule of events:
11:00am: Free Johnny Rockets ketchup-smiley face t-shirt for first 100 Guests (One t-shirt per guest, while supplies last) to visit the new third floor restaurant!
2:00pm to 4:00pm: Dining with the Stars: Snap a photo with popular celebrity impersonators while you enjoy your meal in the new third floor dining area!
2:00pm to 5:00pm - Monarch Court in Phipps Plaza Mall:
Shake Sampling: Savor a sample of one of our delicious Shakes
Ketchup Art Station: Take a photo against our Johnny Rockets backdrop after completing your ketchup art masterpiece
Interactive iPad Quiz: Find out which Johnny Rockets hamburger most closely fits your personality.  Offer cards will be distributed to those who take the quiz!
Photo opportunities: Grab a photo with our Johnny Rockets Shake and "Johnny" (of "Johnny & the Rockets," our newest characters for kids)
The new Johnny is open from 11:00am to 9:00pm, Monday through Saturday, and from 11:00am to 6:00pm on Sunday. With their signature hamburgers, American fries, shakes, classic music and dancing servers, you are sure to be entertained and most importantly full.