Time to break out the anti-war/peace music.
The New York Path to Peace has another video out, based on a traditional tune,
When Johnny Comes Marching Home
. Arranged by
Steve Swell
, it features
Roswell Rudd
on solo trombone. The photographs are from the Library of Congress and depict the battlefield at Gettysburg. A good many of these photographs were prepared in stereo-pairs, implying that they were intended for home viewing. Given the often grisly subject matter in these photos, that, I believe, makes them "war porn."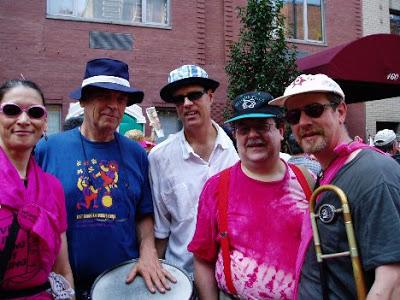 Members of The New York Path to Peace, August 29, 2008
Music by The New York Path to Peace Editing and Assembly by Xanadu Jive (Bill Benzon aka STC4blues)
Roswell Rudd, Solo Trombone Steve Swell, Arranger
Music
The New York Path to Peace:
Victor Jaroslaw: Drums, Sekere Steve Swell: Trombone Sam Kulik: Trombone Roswell Rudd: Trombone Matt Moran: Bass Drum & Cymbal Greg Glassman: Trumpet Everyone: Chants Enrique Fernandez: Alto Sax Don Slatoff: Tenor Sax, Bass Clarinet Dan Peck: Tuba Chris Stromquist: Snare Drum Charlie Keil: Valve Trombone, Percussion Bob Hovey: Trombone Bill Benzon: Trumpet Allen Farmelo: Percussion
Produced by Allen Farmelo & Charlie Keil Recorded by Allen Farmelo at Mavericks Studio, NYC Mixed & Mastered by Allen Farmelo at The Farm, Brooklyn Assistant Engineer: Jessica Thomson
Music © 2009 12/8 PR www.128path.org
Photographs
Civil War photographs from the American Memory collection of the Library of Congress.