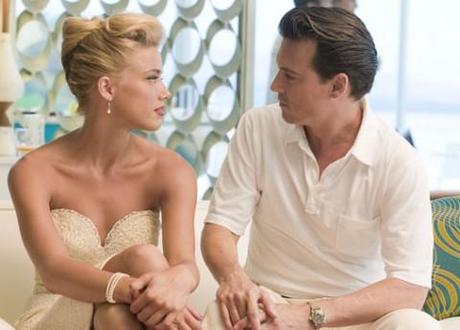 Is Johnny Depp's Paul Kemp or is that really Amber Heard in his bed? Photo Credit: E1 Entertainment
Johnny Depp brings Thompson, the writer and founder of "gonzo" journalism to big screen life once again (Fear and Loathing in Las Vegas was his last shot at it) in the movie adaptation of the novel. Depp became good friends with Thompson towards the end of his life, and co-star Amber Heard told The Los Angeles Times that the film was a "passion project" for him. Indeed, Depp reportedly convinced Thompson to publish the novel, a fictionalised account of the young journalist's days in San Juan, Puerto Rico, in the first place after finding it hidden away in his Aspen, Colorado archive.
The film version sees an acerbic alcoholic young journalist (hint hint) Paul Kemp (Depp) fly down to Puerto Rico to write for rag The San Juan Star, whose editor (Richard Jenkins) sets him up with washed-up hacks Sala (Michael Rispoli) and Moburg (Giovanni Ribisi). He soon gets himself drunk, embroiled with dodgy property magnate Sanderson (Aaron Eckhart) and even more intertwined with his blonde belle Chenault (Amber Heard). Considering the success of the book and the strong reputation of its director Bruce Robinson (Withnail and I), it should be a box office hit, right? Not if the critics have anything to say about it.
'Vividly Average'. Robinson's adaptation of Thompson "can't find a way to energise its sense of purpose", sniped Eric Kohn for film blog IndieWIRE. Despite the fact that he used adjectives like "subpar" to describe the film, he did admire its "restrained" take on the Thompson original. Kohn concluded that the film is "sufficiently entertaining" — "even Thompson-lite has firm appeal."
Robinson doesn't get it. David Fear of TimeOut New York opined that the director's "grasp of the narrative's Candide-like thrust and critique of American imperialism feels tentative and halfhearted." Still, he praised Depp for his "muted" interpretation of Thompson / Kemp.
'Neither compelling nor compulsive.' Full of praise for Amber Heard (hers is an "unscripted wildness"), the soundtrack and the setting, Todd McCarthy at The Hollywood Reporter sniped that Depp's character "doesn't inspire strong engagement", though Depp does lend him some "allure and quirkiness." The film remained a "relatively mild diversion" for McCarthy — nothing more or less.
Better left on the shelf. Rex Reed at The New York Observer noted that the film was left on a shelf for two years after it was finished in 2009. Would that it could have been left there, he bemoaned, for Depp is "dismally miscast" in this "window dressing for an empty ruin, haunted by the hungover ghost of a mostly forgotten writer who died in 2005."