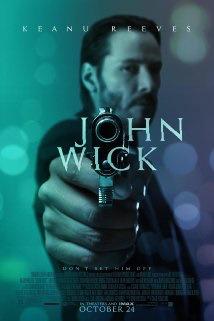 Director: Chad Stahelski, David Leitch
Writer: Derek Kolstad (Screenplay)
Starring: Keanu Reeves, Michael Nyqvist, Alfie Allen, Willem Dafoe, Dean Winters, Adrianne Palicki, Omer Barnea, Toby Leonard Moore, Daniel Bernhardt, Bridget Moynahan, John Leguizamo, Ian McShane
Plot: An ex-hitman comes out of retirement to track down the gangsters that took everything from him.
There may be spoilers the rest of the review
Verdict: Hard Hitting Action Thriller
Story: John Wick starts by introducing us to an injured John Wick (Reeves) as he watches videos of his wife Helen (Moynahan) before flashing back to flashbacks of her dying in hospital. John's old friend Marcus (Dafoe) shows up make sure his old friend is doing ok through his difficult time even with Marcus questioning his appearance. John gets one final gift from his wife to help him continue to love, a puppy called Daisy.
John quiet life is shattered when a group of men including Iosef Tarasov (Allen) son of Viggo (Nyqvist) break into his house to steal his car only to leave him in a bloody mess and Daisy dead. The men take the car to the best man to change car details Aurelio (Leguizamo) who refuses to help because he knows who the car belongs to. Viggo is furious and knows what will come his way because of his son's action before filling us in on just what John once was 'The Boogeyman', the deadliest assassin to work for Viggo who got even the impossible jobs done.
John suits up once more, ready to take out everyone who gets in his way or points a gun in his direction. We know now that John is going to create a huge body count and simply take no prisoners as he takes out his frustration once and for all. John must not just worry about Tarasov's men as Viggo puts a bounty out on his head with all his known assassins going after John.
John Wick gets put into the revenge category of action thriller and easily follows the tried and tested formula. We always seem to get lonely character who seems like they have lost everything get the finally part of their life taken away by someone who doesn't know what they are getting themselves into. We get the traditional idea that this victim is actually a deadly assassin who will get revenge and the villain literally won't stand a chance. The idea works and is told at a very good pace with a few laughs in situation you wouldn't expect them including a personal hotel for assassins. I think because we have had a lot of lazy versions of this story this one comes off very well and is enjoyable form start to finish. (8/10)
Actor Review
Keanu Reeves: John Wick is a former assassin that managed to get any job done, he is out of the game but when his wife dies he is left a puppy. Things continue to go badly for John when a son of a former associate breaks into his house killing his puppy and stealing his car. John sets out on a one man revenge mission against everyone involved. Keanu does a good job in this lead role especially when he usually get heavily criticised for his roles. (7/10)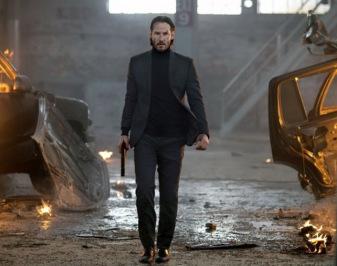 Michael Nyqvist: Viggo Tarasov is the crime boss who has to protect his son from John Wick and by doing so he puts a bounty out on his head. Michael does make for a good but generic villain for this type of film. (7/10)
Alfie Allen: Iosef Tarasov is the son of Viggo who is always out to try and prove himself but his latest idea leaves the whole criminal empire his father created in danger. Alfie makes for a good cocky arrogant son of a gangster. (7/10)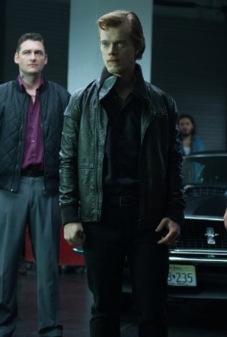 Willem Dafoe: Marcus is a fellow assassin and friend to John, who gets hired to take him out, only Marcus decides to play guardian angel getting involved just when John needs him. Willem does a good job in the supporting role keeping his character filled with mystery for the most part. (7/10)
Support Cast: John Wick has a supporting cast that includes the people that help John and the people that get in John's way each one of them makes the body count build up.
Director Review: Chad Stahelski, David Leitch – This is a well-directed thriller that keeps coming at you until the very end. (8/10)
Action: John Wick is filled with gun battles with absolutely brutal head shots from Wick on every single one. (9/10)
Thriller: John Wick keeps you watching until the very end waiting to see who will be John's next victim. (8/10)
Settings: John Wick keeps the settings very traditional to the idea of being in the criminal underworld. (7/10)
Special Effects: John Wick uses good effects to show how brutal the head shots are with every single John Wick kill. (8/10)
Suggestion: John Wick is one for all the action fans to enjoy, it never lets up so you will enjoy this one. (Action Fans Watch)
Best Part: John Wick's kills.
Worst Part: Being picky the villains are all generic.
Action Scene Of The Film: Night club scene.
Kill Of The Film: The assassins unite against one that turns.
Believability: No (0/10)
Chances of Tears: No (0/10)
Chances of Sequel: Could have one and is meant to be part of a trilogy.
Post Credits Scene: No
Similar Too: Taken
Oscar Chances: No
Box Office: $43 Million
Budget: $20 Million
Runtime: 1 Hour 41 Minutes
Tagline: Don't Set Him Off!
Trivia: Director Chad Stahelski was Keanu Reeves' stunt double in The Matrix movies.
Overall: John Wick is a pure hard hitting action film that never lets you take a breath.
Rating